I have read some of the many outstanding blogs that commit to this weekly. You can go to Teach Mentor Texts or Unleashing Readers to read as many as you can of the blogs with a kidlit focus. Its a great way to see what others are reading and pick out some new titles for yourself. Here is a summary of my reading for the week.
Absolutely Almost by Lisa Graff- I liked this book, and I almost loved it. I really liked the message at the end, but the journey to get there seemed a little slower than I wanted it to be. I was not quite as enthralled with the main character as I thought I would be. He's a young man looking for his niche in life and it is not a quick fix, which is actually great and realistic. I just wondered if the readers that really need the message will hang in there until the end. It might be a good read aloud as the discussion would help some readers that might miss some subtle points that were important. I am interested in Graff's more recent work Lost in the Sun.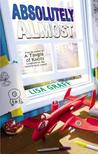 Goodbye Stranger by Rebecca Stead- I will probably read anything she publishes. I really enjoy how there is always a bit of the plot that is not revealed until the end, and then when it is revealed you want to go back to the beginning and read a lot of it again. There are a lot of modern issues that teens deal with such as divorce and certain online issues that I won't try to spoil. The online stuff is dealt with very well and the author is careful not to date the book, or glamourize social media by plugging Facebook, or Instagram. A really wise and great book about relationships and how their nature changes as everyone gets older.
A Long Walk to Water by Linda Sue Park- A short read that hooked me right away. There has been lots in the news about refugees in 2015 and this book is a great discussion piece to accompany it. Based on true events it will help us learn what life is really like for people that eventually choose to immigrate to countries like Canada and the US. For those of us who read Fish as part of the Global Read Aloud, this is also a very good choice. In fact, the day after I finished it, I was able to sell the book to a student by simply comparing it to Fish. A very quick and intense read with action that is heartbreaking at times and uplifting as well.
In the last year or two, I have stopped reading as many picture books as I did when my kids were younger. I am trying to change that this year by reading three new to me picture books each week. In my first week, I read these fictional picture books.
They were all very funny, and I am likely to be reading these to Kindergarten and grade one students. Sparky! in particular causes me to chuckle each time I think of a girl playing hide and seek with a sloth. The punch line at the end always gets me. Wolfie the Bunny is a little like Julius the Baby of the World and gets at what it means to be an sibling. Young students seem to love the opportunities to make predictions. I have yet to read The Princess and the Pony  with students but I think it would go well with the students who were really interested in The Princess in Black  but found it too long to read on their own. The flatulent pony will get large groups laughing.
This week I am reading three picture books that are non-fiction: Manfish: A Story of Jacques Cousteau, How Big Were Dinosaurs?, and Winnie: The True Story of the Bear Who Inspired Winnie-the-Pooh. The chapter book I have already started is The Misadventures of the Family Fletcher and that will be followed by either The Book Scavenger or Unusual Chickens for Exceptional Poultry Farmer. My daughter signed them out from our public library after asking me for some recommendations and now I want to read them before they get returned. She seemed to enjoy both of them but was hooked by The Book Scavenger. I am hoping to start The Wednesday Wars as well this week after so many #MustRead bloggers recommended it to me.