I really enjoyed taking part in last week's It's Monday What are you Reading discussions hosted by http://www.teachmentortexts.com and http://www.unleashingreaders.com and here is a post with my reading review for last week. Visit either site for a list of participants and some excellent reading blogs.
The Misadventures of the Family Fletcher by Dana Alison Levy- First book of the week and I hate to disagree with the old adage that you can't judge a book by its cover, but I looked at this cover and thought this group of people are going to do some crazy things and the book is likely to be funny. That was pretty much correct. It wasn't just hijinks ensuing though, as this book had realistic and likeable characters who you could root for through their problems and challenges. The family is not a traditional nuclear family (if that even really exists anymore) and that is a good thing. There are four adopted brothers being raised by two fathers, but what is really great is seeing how they make things work for them in ways that few would predict. The family has very interesting traditions and rituals that made the story more entertaining and thought-provoking. The fathers really said yes more than I am able to. Maybe I can learn from that? I really liked this book and I will read the sequel.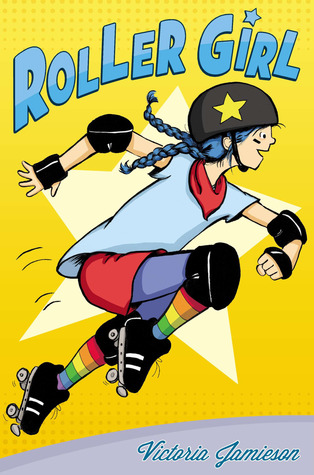 Roller Girl by Victoria Jamieson- Next I was set to read a completely different novel when this graphic novel won a Newbery Honor award. I had been thinking about reading it for some time, but it has been out more than in lately in my school library. When a student in my class finished it and left it on her desk, I decided it was time to swoop in and read this one. When I finished Goodbye Stranger last week, I thought this book might be a complement to it. I think it is. I believe readers of this book will eventually appreciate the Rebecca Stead novel for similar themes of changing friendships. This one is about how friendships can change, but not because people are evil, which can be an absolute that some kids see in their tween years. It is also an uplifting book about perseverance and finding your place. Roller Girl deserves the hype and awards it has been getting. I was slow to warm to graphic novels but it seems there are so many good ones out right now.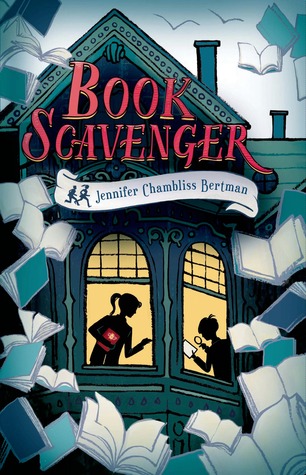 Book Scavenger by Jennifer Chambliss Bertman- This book had some buzz in the summer on Twitter and it looked perfect for my daughter, who loves books and geocaching. I was going to purchase it for her as a gift, but then one day she asked me for a book recommendation in the public library and this title was right there on the shelf so I showed it to her and she predictably flipped for it. She read it very quickly and recommended it to me, so I read it late this week. I enjoyed this book. There were a few things in the plot that I thought could have been tied down a little more and is sometimes the case with middle grade books, I thought the adults could have been a little more with it. However, the plot of code breaking, and hunting for secret books is very compelling and I can imagine kids being very into this series.
Manfish by Jennifer Berne with illustrations by Eric Puybaret- As part of my plan to read three picture books each week that are new to me, I moved to non-fiction. I really like the illustrator of this book. A family friend bought my oldest daughter a version of Puff the Magic Dragon that he worked on, and so when I saw this one I wanted to buy it. I liked that it was a biography and could be useful for older students to read before they write one of their own. This book really captured how children wonder and inquire about the world. The young Jacques Cousteau is shown to have a curiosity that becomes the driving force in his life. This book is perfect for people who dream and want to explore the world around them.
Ivan: The Remarkable True Story of the Shopping Mall Gorilla by Katherine Applegate with illustrations by G. Brian Karas- I really liked how this book complemented The One and Only Ivan. It lays out as many of the facts as possible from his life in the Congo, to a mall in Tacoma, and finally to a zoo in Atlanta. The book does this in picture book format, and then again in a short essay that comes after the picture book. Finally, you get the perspective of one of the zoo keepers from Zoo Atlanta that worked with Ivan for ten years. Having read The One and Only Ivan a couple of years ago, it was great to add depth to my understanding of what happened through this story. Katherine Applegate also creates some discussion points around how we learn from our surroundings, and the place for social activism (Ivan's release from the shopping mall to the zoo is aided by others).
I really liked this account of the inspiration behind Winnie the Pooh, and it reads a bit like a biography of Winnipeg, the bear. Other accounts I have seen are more about A.A. Milne, but this one really is about a bear as the title literally indicates. I actually read this before Ivan, but it is kind of interesting to see the differences in how animals that are really in the wrong place for them are handled. In Ivan, public pressure forces the right decision to be made for Ivan, while in this story the soldier Harry Colebourn is a much more likeable person who makes decisions with the best interests of Winnie in mind. In both cases zoos are seen as the best place for the animals who have been pulled from the wild and are very tame. These could be good starting points for discussions on animals in captivity.
This week I am hoping to read Unusual Chickens for Exceptional Poultry Farmers, and either Wednesday Wars or A Tale Dark and Grimm (I want to see if my daughter in grade three will like it or should read it. She wants me to read the fourth Sisters Grimm book so we can chat about it). Roller Girl has made me want to try Sunny Side Up too. My picture book reading will include If you Plant a Seed.