Check out the kidlit version of this meme at http://www.teachmentortexts.com and http://www.unleashingreaders.com for a great list of titles to add to your reading lists.
This week I was able to read a few shorter chapter books and picture books, finish a YA novel that has haunted many readers, and continue with read alouds in my classroom and at home with my children.
Shoe Dog by Megan McDonald, illustrated by Katherine Tillotson- This was a cute book about a poorly behaved dog (you could probably tell that from the cover though- my Kindergarten students in the library did) who just wants to be loved. Will the dog aspire to be better? Will it reach its ultimate goal? Two things I really loved about this book were how McDonald (better known for the Judy Moody and Stink books) gives the dog a voice (using what we might imagine would be a dog's terms for the upstairs and the owner's bed) and the way the illustrations convey motion. The students I read this with during the week really liked the ending too.
Waiting by Kevin Henkes- This recent award winner had lots of hype due to Kevin Henkes' well deserved reputation for amazing children's books. My family has loved titles like Lily's Purple Plastic Purse and Chrysanthemum, and I really enjoyed The Year of Billy Miller. Those are quite different stories from Waiting, but I really enjoyed this one in a distinct way. This title has some very subtle but important points about the joy of waiting for something really important and then getting it, about noticing things in quiet moments, and about how much better certain things are when they are shared with new or old friends. I look forward to sharing this title during the week ahead with students.
Leroy Ninker Saddles Up by Kate DiCamillo with illustrations by Chris Van Dusen- I probably have not read enough Mercy Watson (they are always checked out since I ordered them into my school's library) to enjoy this one properly. I chuckled a bit, and the zany adventures are sure to entertain many primary students eager to begin their own chapter book adventures. Like many readers, I appreciated what a loyal guy Leroy was to care for his new horse by doing whatever needed to be done. I am not really clamouring for more Leroy Ninker adventures though.
Tales of Bunjitsu Bunny by John Himmelman- The author illustrator uses his title character to teach some great lessons on problem solving. These read a little like old school fables to me with a good message at the end of each of the short stories. Students may be attracted to the drawings and the conflict but I think by the time they read a few of these tales they will notice that Isabel (AKA Bunjitsu Bunny) seems to solve her problems in clever ways, attempting to avoid violence. I think students will want to try to figure out how she will solve each problem. The book clearly lays out the philosophy of non-violence common to many martial arts. Another good early chapter book that I noticed in a Nerdy Book Club post.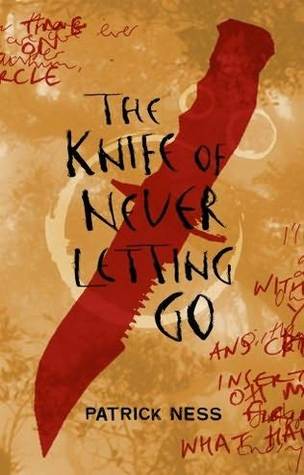 The Knife of Never Letting Go by Patrick Ness- This book is very, very dark. If you resist or are repelled by that type of book, I would say move on. Its a YA book that will upset some elementary aged children. However, there is a lot to like in this book. The world building is really interesting. The characters have colonized a planet called New World. The reasons for this and the development of their society are slowly revealed and engaging. The roles of religion and gender in this settlement are investigated and it is certainly interesting. But buckle up, because this book is fast moving and set in a tough place where the worst things can and do happen. This makes it tough to read at times, and also tough to put down (if that makes any sense at all). Its a book that seems to investigate human nature, good and evil, what it means to be a man. If you like nice tidy endings and stories where good things happen to good people, this might not be for you. It was a little draining to read, and I go back and forth as to whether the payoff was worth it enough for me to read the sequel to this trilogy. I have enough other really good books to read for now, but I would not rule it out. This is a book that kind of sticks with you. Very minor spoiler ahead- "'Everything on this planet talks to each other,' he says. 'Everything. That's what New World is. Informayshun, all the time, never stopping, whether you want it or not… And too much informayshun can drive a man mad. Too much informayshun becomes just Noise. And it never, never stops." Like many books in this fantasy/sci-fi vein, its talking about a near future, but it could really be about our own world.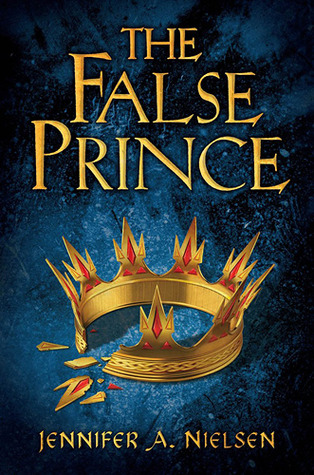 The False Prince by Jennifer Nielsen- I am still reading this with my class. They are loving it! They talk it up to the other teachers in the school all the time. It has a detailed and elaborate plot that keeps readers guessing. I often like to find the first book in a series to read to my classes, although I usually do this earlier in the year. Last year, I read Airborn by Kenneth Oppel. I hide any copies of the book and its sequels until I am done reading. My students are already asking for glimpses of the next two books and planning to read them later in the year. Everything is going according to plan. (Insert evil laugh here!)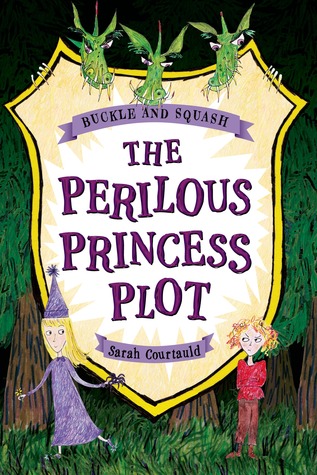 The Perilous Princess Plot by Sarah Courtauld- Three chapters left in this hilarious family read aloud. My two girls, my wife and I are still annoying everyone we know with jokes from this book. My eight year old, who loves word play, has been reciting one particular part for many people. "Clouds raced across the sky, and one of them won and was given a medal."
Shadows of Sherwood by Kekla Magoon- This is a very action packed book so far. I am only about 70 pages into it, but I am really enjoying it. Yes, it is Robin Hood moved to a futuristic setting, with some of the characters being female, not male. I probably do not know enough about the original Robin Hood to say if it is faithful to that in other ways, but I am hooked so far.
Rapunzel's Revenge by Shannon and Dean Hale with illustrations by Nathan Hale- Another old tale in an unfamiliar setting. It seems to modernize the story a bit by adding politics and class to the story (not unlike Robin Hood/Shadows of Sherwood). This is a graphic novel that I am about half way through. I like it so far, and I think kids will enjoy this one as well. It was published about seven years ago, but many might have missed it, and my students who were fans of the Ever After High books Shannon Hale wrote (not to mention The Princess in Black fans) have already been looking at this on my desk.
This week we will finish our family read aloud, and move on to a new one (not my turn to pick), and I will finish Shadows of Sherwood and Rapunzel's Revenge as well. My next middle grade novels will likely be The Wolf Wilder or The Wednesday Wars (I have a thing for the letter W apparently). I also have Jennifer Nielsen's The Mark of the Thief and Rise of the Wolf arriving soon and I am eager to read those. This weekend I bought some more early chapter books and I will check out one or two of The Chicken Squad, Alvin Ho, and The Totally Secret Secret. Sooner or later, I have to tackle some of the "adult books" on my Must-read list but this is likely not the week. If so, it will be The Peripheral by William Gibson.