The end of my Spring Break (back to school Tuesday) seems a good time to share recent reads. Hop over to teachmentortexts.com or unleashingreaders.com to view the kidlit version of this meme. You will find lots of great titles for your to-read shelves.
I decided to break my books into two groups: picture/early chapter books, and YA/MG. I will start with the former.
Mother Bruce by Ryan Higgins is a hilarious picture book about a grumpy bear who ends up mothering a flock of geese. The plot is familiar but very funny. The illustrations, especially the facial expressions of the characters add to the humor and the emotional content. This read aloud will allow your group to laugh together.
 Anything is Possible by Giulia Belloni was a title that was well liked by youngest daughter (K student). For me, the concept was really good (perseverance) but there are other titles that do so more effectively. Some of you probably have a great list of pic books for things like this or growth mindset. What Do You Do with an Idea? comes to mind. This one seems a little hasty and that is not really the way perseverance works. Good addition to a collection on this theme but not enough to deliver the message on its own.
 The second installment of The Princess in Black series was well received by both of my children. My oldest (very strong grade 3 reader) stopped reading the book she was enjoying to hear this one. During a break, my youngest peaked ahead to see what colour the next monster was going to be. In this book, a constant stream of monster alarms threatens to disrupt the perfect birthday party and the secret identity of The Princess in Black is in peril as well. For my family, the format of an early chapter book works, and the colourful illustrations are great too. We love the resourcefulness of our main character as well. I am considering this series for one of my library groups as a read aloud (1/2, or 2/3?). The best thing about reading a book in series out loud is when the group asks for the…
next book in the series. This is the third installment in which our hero faces her toughest opponent yet. First, she has to find out why such a cute creature is a threat, then she has to stop staring at their giant eyes. My crew connected the introduction of the Bunny Horde to Puss in Boots from Shrek. I found it ironic that a group of goats (who will eat anything) were threatened by a horde of bunnies who will eat anything. We laughed a lot at this title including the illustrations. The whole series works for us. We are not sure if The Goat Avenger will spin off to superhero status of his own.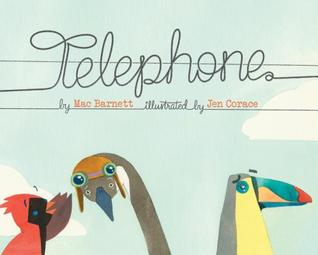 Telephone by Mac Barnett was exactly what my oldest was hoping for, a book that is similar to the popular game in which a message gets all mixed up. We enjoyed how the final bird was able to decipher the message correctly and there were some opportunities for inferences based on some generalizations of the picture and literary stereotypes. The illustrations added to the humour and there are a lot of easy to miss details.
The Farmer and the Clown by Marla Frazee is a great wordless picture book in which two seeming opposites connect with caring being central to their relationship. The pictures show the complexity of the relationship and in my group everyone seemed to see something different so discussion was a must. This surprised me, because of how much blank space there was but maybe it is just that I am haven't read many wordless picture books to groups. We will be working on that over the next few weeks with some of these choices.
 Another really great wordless picture book. I read this as a tale of a wonderful day of adventures of the simplest kind. The cover reveals this somewhat but there is a lot in the pictures for the reader to explore. Like The Farmer and the Clown, there is a sad moment for a little one and a man who provides comfort and care. These two books really complemented each other well.
 This is an older title, I think it is about ten years old, from the team that brought us The Gruffalo, which has classic status in our house. My little readers loved how each page went from one favourite book to another. There were also some funny connection from page to page in the illustrations. It did not have the great plot or characters of The Gruffalo or The Gruffalo's Child, but the story hopping was fun to imagine for those that love books like we do.
I read this with my daughters and it was like having a sitcom laugh track beside me as we giggled at every page. This one came out about five years ago but I was attracted to it after reading Sparky by Jenny Offill. That title is far more subtle. This one takes us through some of the craziest experiments a kid could create. The descriptions use steps we might use to teach beginning science students including language such as hypothesis. My kids were a little too occupied with the humour to ask about these words the way they usually do. My oldest told me that her teacher last year read them 17 Things I'm Not Allowed to Do Anymore by the same author and it is also hilarious.
From my pic and early chapter books to my MG and YA books, but I can make a connection between the last book and the next one (Weak connection alert!!!). They both have main characters that like to wear lab coats.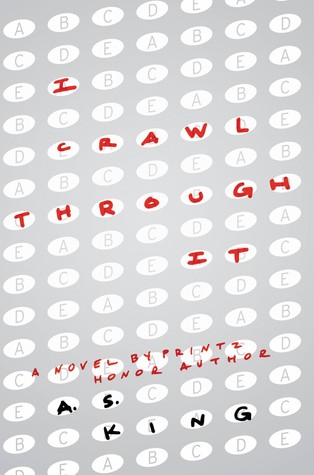 A lot of people who state they are big A.S. King fans say they could not finish this book. I get it. I do. When I pick up one of her books I am prepared for a tough experience. Bad things can and often do happen in life and certainly this writer does not shy away from it.
The first half of this book is like that. A group of young people are confused about their lives and as a reader I was confused too. But for the people that did not finish this book, I would encourage them to go back one day. Sometimes a book is not right for you at a certain time and later this one might be. In the last third, the themes really come through and if you have read any AS King novels you will be able to find them as the characters start to find themselves and their places in this world.
Like many of her works, you will want to shake some sense into many (all) of the adults. As an adult, I cringe at these people, but as a teacher I know that the depiction is not so improbable. The young people in this book just want someone to believe in them and as a teacher you can always see the difference this makes in the lives of a young person. As King writes, "it means we must start paying attention."
 A heart-warming book. Even if you see some of the conclusions coming, it won't really matter because you will want them to happen. Main characters that you root for. A lot about belief in people and yourself. It is "good to be ridiculous and amazing" and particularly for a first novel, Cassie Beasley has done that.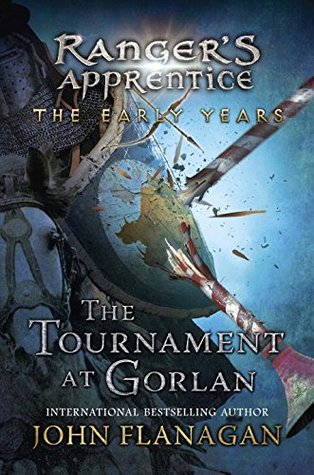 I am a real sucker for John Flanagan books. This is a prequel to the 12 volume Ranger's Apprentice series. A really good read for fans of that series who have run through all the volumes and really enjoy the world and the characters that has been created. Even if you have not read the whole series, this book is a good companion to the first one in the series, explaining some of the past events that led to the plot of The Ruins of Gorlan. It looks like there may be more in this set.
 My family has really enjoyed the first two of Shurtliff's books. We were not sure if they would be connected and the connections that we found were very exciting and had my little one hollering. I had not really anticipated some of the world building that was here, and there are some really neat scenes in the world of the giants in which Jack and the other characters get around and the inside of the giant dwellings are described. A familiar story but the revision is great. We can hardly wait for the third volume, Red, which is out in a couple of weeks.
I don't think I read this as a child. I am familiar with The Little Prince through TV, including watching the newer versions with my kids. They really enjoy it, so we thought the movie would be a good idea. It was really interesting. Partly based on the book (says my oldest) and part of it was original, a commentary on parts of modern life that de-emphasize traits like creativity. When we got home the book appeared in my spot at the dinner table and I am finishing it right after this blog. My oldest was right, the movie is faithful and even the original parts are faithful to the spirit of the book. I am not as in love with it as I thought I would be, but there are some really interesting lines that speak to some of the things that our modern world may not appreciate enough. (Some of the same things are in I Crawl Through it too, believe it or not)
I also re-read The Nest, which I love, for a Lit Circle that I am starting in my 5/6 class next week, and have started The Blackthorn Key for the same purpose. My family moved on from Jack to The Neverending Story. This is another book that it seems I should have read as a child, but I did not. Its not the easiest read and I was wondering if my little kindergartener might struggle, but so far she seems okay. I am heading back to the odd and fascinating world of The Riverman by Aaron Starmer as I get to read the sequel The Whisper (I forced myself to wait for the paperback). Happy Easter and happy reading to everyone.