Visit teachmentortexts.com or unleashingreaders.com to see other people's rundown of their reading in kidlit and you will be swamped with many great new titles. I used to do this every week, but lately my two large class/district projects seem to take up way too much time, and I have not been up to the challenge of managing that time. The last of these projects is reading related and wraps on Tuesday so I may start finding time to write.
Re-reads: I have been obsessively re-reading the books in my district's Battle of the Books that takes place on Tuesday. I have been madly writing questions on these books for our student readers (contestants) to answer in a quiz show style (think Family Feud meets Jeopardy) competition that pits school vs. school. Our school needed a qualifying round because we had so many kids who wanted in to the district event, and it was great so I am really excited about this event that features video questions from three authors, and the announcement of the winner of the favourite book from this group (it was a tight three horse race- if you've read the book list your pick in the comments section). Here are our books:
Our project started with these books being part of my lit circles this year, and grew from there. I have read a few other great books lately. Here is a short summary of a few:
I really enjoyed this book and what it says about learning, about human nature, and about treating other living creatures. The comparisons to Hatchet are on to something, but you can go a little deeper with this if you want to. I think grades four and five in particular will really like this at my school.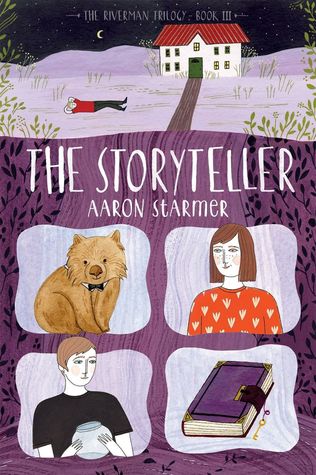 I finished The Riverman trilogy! I really loved it but I think it will not be for everyone. It takes you to strange places, and you have to be very okay with an extremely fuzzy line between what is real and what is not real. Some of my students that are okay with being confused at times, and always guessing are loving this series. Others want the answer, and usually move on.
Great middle years reads:
I read these titles trying to find books to be in a Battle of the Books event next year, if we decide to try this again, and also because Orbiting Jupiter was picked as a Global Read Aloud title. I think my favourite in this group was The War that Saved my Life as I really had strong reactions to the events in the book and felt very connected to the main character. I had similar reactions when I read many of the books in this year's Battle and to a slightly lesser degree when reading Orbiting Jupiter and Raymie Nightingale. They are all fantastic. I was surprised how much I enjoyed Masterminds, as I haven't enjoyed a Gordon Korman novel that much in years. It was like a tweenie-junior version of the dystopian fiction novels that some of my students should not be reading yet (but want to). I did not enjoy Booked quite as much The Crossover, but it was similar and still very good.
Books I read for very specific reasons:
I read The Case of the Missing Moonstone, the first in a series by BC author Jordan Stratford because he was visiting my daughter's school. It was a really good book with real historical characters (Ada Lovelace and Mary Shelley) who come together in an entirely fictional way to solve a mystery. I enjoyed the time period and the focus on young women learning science, technology and other important things was great for my oldest daughter. Red Wold is a fictional account of a student in a residential school. This is an important topic in the new BC curriculum and this story handles it well with a realistic account based on the history that I have read. It tells the story including many tragic details without being written in a way that will give people pause before handing it to elementary aged children.
Fabulous newish picture books:
I might have been the last person to read Last Stop on Market Street, but if not, if you haven't, it is every bit as good as the medals and the people who have already told you to read it would suggest. Toshi's Little Treasures is an engaging title that takes you on walks with the characters and you also learn about the things they would find in different locations. It is an active and for me unique book in which you are challenged to an activity that goes with each location. I read it far too quickly after it arrived and I really need to go through it again really soon. There is lots to see and lots to do in this one. I really enjoyed Thunder Boy Jr. and what is says about finding your own place in the world. It helps to know a little about the type of naming ceremonies that are specific to some, but certainly not all First Nations groups. The American Indians in Children Literature blog has a really interesting discussion regarding this book (http://americanindiansinchildrensliterature.blogspot.ca/2016/05/how-to-read-sherman-alexies-thunder-boy.html).
I am currently reading Red by Liesl Shurtliff with my family and loving it. I am also reading The Girl in the Well is Me and The Hidden Oracle and both are really great, although very different.