Late in the afternoon, I returned home with the will to share my week in reading on this great weekly meme hosted by Teach Mentor Texts and Unleashing Readers. Pop over to see close to thirty other submissions that would be sure to increase your to be read list.
My first book of the week was Jackaby by William Ritter, and this was a new series for me. The third one is out in just eight days, and I think I will be picking that one up as well, as I really liked this book and purchased it in a Scholastic 2 pack with its sequel. The cover has a Sherlock Holmes kind of tilt to it, and there are some similarities for sure, but this is more of a paranormal mystery. I was reading it at the same time as my 9 year old read The Screaming Staircase by Johnathan Stroud and they seemed like similar books. I thought this one might be more of a YA book, but it seems fine for my 5/6 students. There is plenty of mystery, action, and a little humour thrown in. The writing style makes this probably more appropriate for upper intermediate than lower.
Next is my first run of picture books for a while. This one has one thing, at least, in common with Jackaby in that the title character is an adventuresome, intelligent person of science. I really liked this picture book bio of Ada Lovelace. I could use this easily with intermediate students to discuss computers, the role of gender, the Industrial Revolution. It also makes a great mentor text for writing biographies. I might pair it with Manfish ( a bio of Jacques Cousteau by Jennifer Berne) or with the historical fiction series The Wollstonecraft Detective Agency, a MG series by Jordan Stratford in which Ada is a character.
It was really nice to finally purchase some new picture books for the school library and get to read some books that have been much discussed on blogs and on Twitter. This is really cute little book that has a different perspective on the first week jitters. Just as the title suggests, this one has the thoughts and feelings of the new school as it starts its first week. There's really insightful text that looks at how many different people in the school are behaving (both good and bad) in the first week. The illustrations work well to complement things (and made me think about how much I liked Last Stop on Market Street again). Many people will enjoy using this during the first week back to school.
This is another title I was drawn to purchasing over the summer because many other readers have identified it as being great for early in the year. As advertised, a great choice for talking about independent reading and sharing with your community of readers without spoiling things. Some good moments for young readers to make predictions too. They will also appreciate the humour.
My library patrons were really drawn to Ame Dyckman's picture books last year, Wolfie the Bunny and Horrible Bear. I decided to go back and find older books that she had written to satisfy the cries for more that I had. I am excited that she is teaming up with Zachariah OHora for a new book soon. This was a fun book I will shelve beside The Wild Robot or with books that have a friendship theme. I read these with my six year old (who loves this author as well). It made us think about different perspectives/points of view/backgrounds.
This team has several science themed picture books that I really should have picked up sooner, but this is my first and I quite enjoyed it. There is great message about perseverance and really engaging pictures loaded with details. I loved the page with pencil sketches of early flying machines and captions describing the women that flew them. People looking for books about grit and growth mindset might look at this book.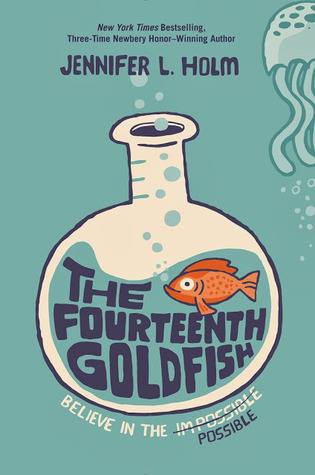 I seem to have an unintentional theme to many of the books this week, which is a love of science for the characters. I actually have had this book for a while and haven't quite gotten to read it. It was at the top of my pile for a while before it made it to my hands. I have been considering using it for my book club/lit circle this year. I will use the same set in my district Battle of the Books. I did really enjoy the book and its many positive messages and relationships. In some ways, it seems similar to the book I am currently reading, The Thing About Jellyfish. There are divorced parents, the issue of death/grief is there, issues around friendship are key and the main character loves science. This is a quick read and an enjoyable book, but I think I am little more hooked by The Thing About Jellyfish so far.
My final book for this week is the first in a trilogy that I am having difficulty describing without including spoilers. In the spirit of Let me Finish!, I will try for less detail here. There is a really interesting version of London here in which young people strive to be accepted into the Tagis Praff School for the Magically Inclined. Ceony Twill is one such young person, who graduates from the school early and is sent to apprentice under a Paper Magician, paper being one of the limited number of materials apprentices can "bond" with (a student can bond to only one material in order to create magic). Like an older version of Harry Potter, Ceony is thrust into a battle of good versus evil before she is really ready when a practitioner of dark, flesh magic attacks her master. Its a very thought provoking story. Ceony is a likeable, yet flawed character and it was interesting the way that Charlie (female, by the way) Holmberg disclosed the past's of the characters. There are a couple of darker moments that I am not sure will work for my students but I have some former students that I might recommend this to (if only to discuss one plot point that did not work for me).
Next up, I get to finish The Thing About Jellyfish, probably tonight, continue reading Inkheart with my family (really enjoying it), Little Robot (just picked up for the library), and The Skeleton Tree (recommended by a librarian for our Battle of the Books). Happy reading to all!