This post is part of the kidlit meme hosted weekly by http://www.unleashingreaders.com and http://www.teachmentortexts.com, great places to stop for many reasons and in this case to find out what others are reading.
This week, I continue to read MG novels to try and pick a set of six for my literature circle/book club for the upcoming school year. This set of books becomes our Battle of the Books list in my district. I sprinkled in a couple picture books and a graphic novel as well.
A really interesting book and certainly paired well with a book I read the week before, The Fourteenth Goldfish. Really interesting science throughout the book and this seems to be the author's strength based on her past work. Themes of grief and friendship that are common in books for this age group were present and handled well, but I really liked the way bits of the past were slowly revealed and the secrets of ever changing relationships were very engaging.
Seems a bit of a cliche to call a picture book cute, but that is the first word that comes to mind when I think of this one. A young frog wants to be anything (it seems) but a frog, and it takes a while for him to learn to like what he does have going for him. His grass is always greener moments are full of humour as the frog wishes himself into the skin of many other creatures.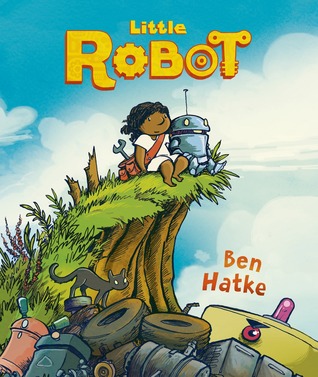 This is a graphic novel with very few words that becomes a story of friendship and loyalty, kindness and overcoming obstacles. I haven't had a lot of experience passing books such as this to students, and I am looking forward to trying it with different age groups. Some children are really good at noticing details in pictures, and some of my students (particularly the older ones) sometimes flip through in an effort to read faster (which they think is better). My own children have been loving graphic novels (my six year old could flip through Rapunzel's Revenge once a week and is not reading many of the words yet) so I think I will try them with this title. Curious if others have tried this with students yet.
This a very cute tail of friendship and loyalty. The title characters complement each other well and help one other when needed. There is little text in this one, so I think very young students might enjoy this as a read aloud with the opportunity to do some of the reading themselves. Illustrator Tom Lichtenheld has certainly been prominent in many of the books I have bought over the last year, and I hadn't really realized it until I looked it up on Goodreads, there was something familiar about the artwork after all. This reminded me of Friendshape, but had a little more plot.
At first glance, this is a survival story and the comparisons to Hatchet are obvious. There are a lot of interesting things going on here too though. There are some really authentic details in the setting such as a burial tree (make sure to check the Author's Note at the end), and the amount of debris that washes up to the Alaskan coast from the Japanese tsunami. There is a complex and troubling relationship between two boys at the center of the story and this is interesting too, but I really had a love/hate relationship with these characters and some of the decisions that they made. They did not always make sense to me. However, the survival plot is quite exciting and there is a very memorable scene with a one of the local wildlife.
This one qualifies as the "Everyone seems to have read this but you" list I keep in my head. I am actually just finishing this book right now. Full of games, wordplay and book references, it comes recommended by my avid reading nine year old. Many compare the title character to Willy Wonka and there is certainly some similarities between this book and Charlie and the Chocolate Factory, but it also reminded me of Book Scavenger. I am enjoying it but am wondering how the book references will play with those that are not avid readers.
Upcoming for me is the conclusion of my family read aloud, Inkheart by Cornelia Funke. We are really enjoying this one. I am also reading The Case of the Weird Blue Chicken: The Second Misadventure by Doreen Cronin, the second of The Chicken Squad books. My six year old really likes the humour, which I find a little subtle for her age range. I still think it will make a good early chapter addition to my school library. The first book was well received by grade 2/3 students. I plan to try and read some of the books that last year's students recommended to me that I have not gotten to yet such as Moving Target, and All Fall Down. I have two weeks left to read a few of these and start some good conversations about books during the first week of school. Happy reading everyone!