My fairly tardy contribution to this weekly community of kidlit readers was delayed by my last minute preparations for the beginning of school tomorrow. This meme is hosted by http://www.teachmentortexts, and http://www.unleashingreaders. Great places to visit if you are on the hunt for more books to add to your to-be-read list.
Most of my reading week was reading Mercy Watson with my six year old, which is not a bad way to spend the week. I also managed a picture book and a couple of novels.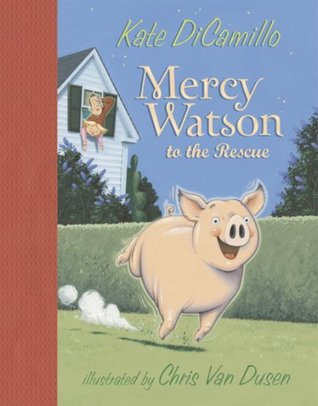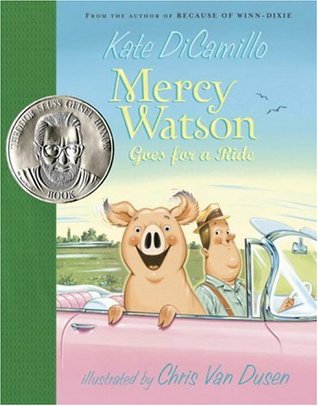 The first four Mercy Watson books make up the majority of my titles this week. Most of you will likely have read these, but I had only read part of the first one, enough to pass it quickly to the teacher that needed it at my school last year, where I was a first-year librarian last year. Over the summer, I had planned to read all of them and wanted to do it with my six year old. We had great fun reading about the adventures of Mercy, a pig who is a force to be reckoned with on Deckawoo Drive, where she enchants most of the neighbourhood, except for Eugenia Lincoln. Mercy proves to be the nemesis of Eugenia, with hilarious results. The endings are delightfully predictable for little ones, and the secondary characters are so colourful as well. With just the right amount of descriptive, interesting language to push a young listener, this series begs to be read aloud in good company, with some buttered toast. There are six volumes all together, although some of the secondary characters are now getting books of their own (three so far, one of which, Leroy Ninker Saddles Up, I have read) and they are somewhat longer. This is a great early chapter series that seems to be finding a way to stay with readers as they grow up.
I have become a big fan of Ame Dyckman's picture books as of late. I stumbled across Wolfie the Bunny and Horrible Bear and they quickly became favourites in the library. I also really enjoyed one of K.G. Campbell's earlier works The Mermaid and the Shoe, so this seemed like a natural for me to order when I looked back to see what else Ame Dyckman had written. This was a really funny book of a bear that really did not want to follow the rules that were being dictated for the tea party, but really wanted a cookie. There are a few very similar moments in the Mercy Watson books when Mercy really wants treats. Some good moments to discuss the value of playing fair and letting everyone have some turns making up the "rules" when playing games. As the father of two girls, I have had my share of chats about this. I wish I had bought this book for my kids years ago.
Here is a book that I have wanted to read for a very long time and I finally did it. It did not disappoint. I purchased it for my library and it was frequently out so I never did read it. Adam Gidwitz takes Hansel and Gretel and has them move through a number of traditional Grimm fairy tales, fusing them into one story. When I say traditional, I mean the original, gruesome version. He adds a few things, including a witty narrator who pops up in bold ink once in a while to warn us to hide the little kids when a grisly part is coming, or to add some humor. I really enjoyed this and will try to wrestle the other two off of students and force them to the top of my reading pile. Better yet, I should treat myself to the Dan Santat illustrated new versions. The older copies that I have are seen above and have a creepy look to them, but the new ones are even better. There was a great Nerdy Book Club post about them a few months back. Here is a look if you have not seen it.
My last read this week was a new offering from Scholastic in the Dear Canada brand. I was attracted to this one because it offers a glimpse into the mind of someone who endured one of the worst parts of Canadian history, the placing of First Nations children into residential schools. Ruby Slipperjack, a university professor, writes this in the voice of a young girl attending school far away from family after finishing grade 5 on her reserve. She actually attends a public school and lives in the residence that may have formally been a residential school unlike most of the other accounts I have read. This is explained in the Author's note at the end. We follow a year with Violet. She does her best to stay positive and does find some things about being there that she enjoys such as the food and TV. However, there are many of the issues that you would expect in a book chronicling this dark period of our history such as missing her family, and enduring terrible racism. There are references to the abuses that many First Nations people suffered but none are graphically described, and Violet's experiences are better than many, yet she learns enough to let the audience know enough about the history. That is really important, as I think it makes the book safer to pass to younger intermediate level students as a way to learn more about these events.
I also continue to read the fifth Land of Stories book, An Author's Odyssey with my family, and will get to read the rest of Mercy Watson with my six year old before touring the rest of Deckawoo Drive. With my class we will be starting a Jennifer Nielsen novel in anticipation of her visit to our school in October. I am not sure which one, as it depends on the class placement of a few students who I know have read some of her works. It may The False Prince, it may be Mark of the Thief, but it could also be The Scourge. For myself, I will be reading All-American Boys and am really looking forward to it. Happy New Year to my teaching friends, and happy reading to all!