I have been kind of busy on Sunday/Monday the last few weeks and have missed out on participating in this weekly meme with a kidlit focus hosted by http://www.teachmentortexts.com and http://www.unleashingreaders.com. I am going to attempt to summarize a few of the books I have enjoyed since I was last here.
Middle Grade Novels-
I have loved all three of Dan Gemeinhart's novels to date. Scar Island is his newest, and could be his best. Many have commented that it reminds them of Lord of the Flies, and while there is one plot point that will make many recall that there are many other things going on here. The last third of the book is really gripping and just as he did in his previous two efforts, Dan Gemeinhart really has you thinking and feeling along with likable and fallible characters. Counting on Hope is a story written from the perspectives of two youths (one First Nations, and one Caucasian) whose families are interconnected during the time of first contact between Europeans and First Nations in the Gulf Island region of British Columbia. I think this book could really open up some great discussions of this time period with students. I enjoyed the setting and the plot. The two girls develop a friendship (to me, it was a little rushed) but the political life around them makes their friendship quite challenging and pushes the characters in many directions. I enjoyed this read. I had Because of Mr. Terupt recommended to me by another librarian who was kind enough to lend it out to me (Thanks Mr. Anscomb at Central!). I think fans of Dan Gemeinhart's (and I have plenty at my school!) would also love this book as it pulls at your heart quite a bit. There are seven different perspectives of students in a grade 5 who are all touched by the work of their unconventional teacher. I know that description could be true of several books and movies and this may turn some readers off. Also, at times the students seemed to read each others thoughts and feelings far more successfully than the students I deal with. However, this is still a very fast, compelling read. I may pick up the two sequels.
Speaking of sequels! I re-read Masterminds because it is a part of my upcoming literature circle and Battle of the Books I am co-planning for the Spring and I picked up the rest of the series because I know my students will want to read them right away. Also, I just really enjoyed the whole series. Its kind of a dystopia for tweens and a very exciting series. I thought I would lose a friend and colleague when I failed to lend #3 to next door neighbour at school (apparently, I was supposed to loan #3 to her and not take it on vacation with me). Her reaction was further proof of how good this series is.
Transitional/Early Chapter and Graphic Novels-
I re-read Charlie and the Chocolate Factory with my family. It was as fun as I remember it, and while I am sure my children enjoyed it, just not as much as I had hoped. My fourth grader probably wanted a little more action. Weekends with Max and his Dad is a cute tale of a boy and his dad navigating the new world of weekend visitations after a separation. Over three weekends the boy comes to terms with having two homes. The characters are endearing too, and there is warmth and humour. HiLo #2 is, to use the language of the title character, "Outstanding!" My wife would call it a "cookie stealer" (I think she stole the expression from Jordan Stratford) typical of book two in a series in which at least one character is going to have a tough time. There will be a long line for book three as the relationships got stronger and the action is ongoing. I loved the hilarious cat in this book too. I think it was even better than the first graphic novel in this series.
Picture Books-
These were two very funny books. We're in the Wrong Book is one of three Richard Byrne picture books that all feature audience involvement and humour as the characters navigate a small problem within the book. Snappsy the Alligator is a character that does not appreciate being nudged through the story by the narrator and the back and forth between the two is witty and will have young ones giggling. Both are likely to be solid read alouds in my primary library periods.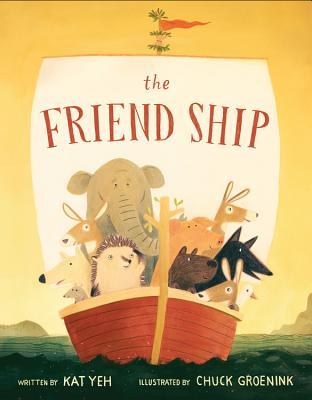 I am also hoping that these three are story time favourites in the library. The Snurtch was, I read it in one of the final weeks before Spring Break and the teachers reported that many of their students were still talking about it a week later. Best question from a student: "Do teachers have a Snurtch?" Of course we do. Hopefully, we control ours and our students cannot tell. The Friend Ship is a really cute story of finding friends and being a friend to those around you. We're all Wonders is a solid follow up to R.J. Palacio's novel. The staff at Kidsbooks in North Vancouver (what a great group they have at that store) asked my wife how kids would receive this one if they were unfamiliar with Wonder. A very good question, and for sure I think the book will require more explanation and discussion. I don't believe it will have the impact on people that the novel has. It would be a real challenge to get that in the short format here, and while I like this book I don't think it is quite up to that challenge. I am curious what people who have read this with little ones have to say though, I only just got my hands on it.
Currently Reading-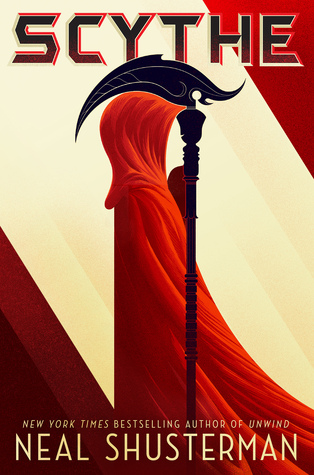 I am re-reading The Fairy Tale Detectives with my six year old. She wanted a book with magic, and action so I chose this one. We really love it. I have long loved the cover of this one. The Horse and His Boy is our family read aloud. We are half way through it, and honestly not really enjoying it as much as the first two Narnia books (we chose reading order so this is book 3). I am reading Scythe and finding it fascinating. I really enjoy speculative fiction and this is a thought provoking read (although dark for some). I am also re-reading The War That Saved My Life for my upcoming literature circle/Battle of the Books unit (just as good the second time). I am hoping to finish all of these books this week while I am still on Spring Break. Next, I hope to continue with series such as HiLo (just got Book 3), Dory Fantasmagory and Lockwood and Co. (both Book 2) and begin new series such as Horizon and Narwhal: Unicorn of the Sea. Happy Reading to all!