For this teacher/librarian, summer holidays are finally here. With them come a mess of things that have been ignored during a busy spring, but also more time to read. Cause for a little celebration to be sure. This week was filled with the final touches of the school year: cleaning a classroom, trying to tidy up a library that is brimming with more books than it should be realistically hold, saying farewell to an excellent group of grade sevens, and completing my grade five/six report cards.
I am grateful to have more time to squeeze in some reading and posts now though. I plan to focus on my Must Read List a little more, and completed two such books this week. I am also looking for newish titles that we might use for our Battle of the Books and Lit Circles next year. Last week, I read York with that in mind, and this week I ordered Orphan Island.
Better reading weeks in terms of quantity are ahead, but this week, in honor of Canada Day, I read two books from one of my favourite Canadian writers, Kenneth Oppel.
This book was correctly billed as Indiana Jones meets Romeo and Juliet. I saw it at my public library and decided that with school coming to a close I would, as I often do, put more focus on the YA and adult titles that I have wanted to read for a while. I have been a fan of Oppel's for quite a while having read Silverwing and Airborn to classes, as well as using The Nest in my lit circle in 2016. I was not as fond of this one as some of his other works, but the paleontology and setting were appealing. I am not really drawn to love stories, and wasn't really sure how I wanted this one to end but I actually liked the ending as well. I was finishing this one just before Canada Day and felt that I should grab another YA Canadian book.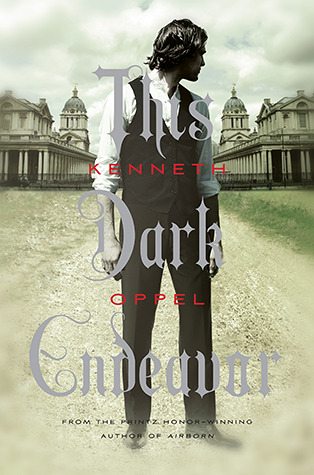 After glancing at what I had around the house, I realized that this was the book that I really wanted to read. Prior to this week, I had only read Kenneth Oppel's MG series, and I had been curious for a while to read this one for a few reasons. I wanted to see a different spin on the Frankenstein tale, I knew this was set in Geneva and having traveled there, the setting appealed to me, and finally I am really enjoying most books with alchemy in them. I don't read about it often but when I do: The Blackthorn Key by Kevin Sands (who is visiting my school in September), and The Baroque Cycle trilogy by Neal Stephenson, I am riveted. All three of these things made me enjoy This Dark Endeavor.
This book had some very intense action scenes as the three main characters went on some adventures in the country surrounding Geneva. Just as with Oppel's MG series, animals of a rare or unique nature are involved. This made me appreciate the book all the more. I am likely to read the sequel sooner than I got to this one.
Currently Reading:
My family continues to read The Adventurer's Guide to Successful Escapes. I really enjoyed my first reading of this one several months ago, and thought my Harry Potter and Percy Jackson reading daughters would appreciate the mix of action, magic and humour. So far, it has done the trick. MG readers should love this one, and hopefully the sequel in September will be just as good. My youngest and I are currently reading The Spell Thief, the first in a series of twisted fairy tale related stories. We are intrigued so far.
On deck books: I am likely to read Olga and the Smelly Thing From Nowhere by Elise Gravel, solely because I loved the Disgusting Critters series. I have had How to Tame a Triceratops by Will Dare in my school bag throughout the reporting season and want to see what this early chapter will hold. However, the librarian my lose out and I may go to Stand-Off by Andrew Smith, which I have been holding for a while, or an adult new release The Rise and Fall of D.O.D.O. from the aforementioned Neal Stephenson and Nicole Galland.
Hopefully all my Canadian reading friends had a great Canada Day, and our neighbours to the south have a great celebration of their country as well tomorrow! Happy Reading to all!