This is my weekly contribution to the kidlit themed, book sharing spree hosted by the amazing folks at unleashingreaders.com, and teachmentortexts.com where you can regularly find a lot of books to add to your to-be-read stack. Not all my reading was kidlit this week, but I had a mix of titles that I could share.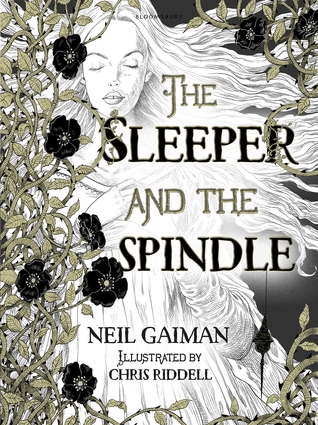 Part Snow White, part Sleeping Beauty, part something else entirely. An interesting, imaginative graphic effort. The only issue I had with Riddell's illustrations is that I almost thought they were like those colouring books we see a lot of in stores. I almost grabbed my pencil crayons, and this is a public library book. A YA graphic title that will linger in my head because of the fusion of different stories, and the re-imaging of several characters, particularly the dwarfs.
 This was a second read of this title, the first in a series that seems like it will be a lot of fun if the first is any indication. This has a mix of humour, and action that appealed to both my children (10 and 7). My youngest ranks it behind Harry Potter and Amulet, which is the highest praise she gives anything these days. Three children that would be no one's first choice to be sent on a quest are in fact, sent on a very difficult one that will test their abilities and the fate of the world. Not a super serious fantasy but a light, very funny ride. I enjoy this book a lot and loved sharing it, the sequel is out in September.
This was a book that I felt like I should have read a while ago. It is the classic new kid at school plot at first, but there is something fundamentally different about the school in this one, and it has to do with coding. The book is filled with riddles and puzzles that are coding related and the math and computer science make this a different graphic novel read. I just bought this and have yet to share it with kids, I am curious if that part of the plot will play well. At my school, we took part in some coding for the first time last year, and it went over well with a few students, but many others dreaded it. It may be that those coding enthusiasts will be the ones drawn to this book, but perhaps not.
A young boy who lives with his grandparents after the death of his parents has a passion for racing horses and a love and faith for an Appaloosa. After being taunted by bullies at school, he becomes very determined to enter and win the next big horse race. Jason, a young Cree boy, finds love, support and guidance from his Nimosom and Kokum (grandfather and grandmother). This was the length of a transitional chapter book so events happen fairly quickly, but with diverse characters and setting, I think some would find this appealing in my library.
This was a great book to read with my seven year old. She was able to read parts of it to me as well. There are some visuals and not many words per page. At 167 pages, it is a touch long for truly beginning chapter book readers. With plenty of familiar characters and plot points from other fairy tales, and some original humour mixed in though, this was an appealing read for us, and if we had the sequel in our home, it likely would not make the summer.
 This was my non-kidlit book of the week so feel free to scoot on past this one if you like. Neal Stephenson is one of my 'read immediately' authors, but I usually wait until summer. So much of the kidlit I read this week had some magic in it, surprisingly this one does as well. In this book, a shadowy government agency investigates the demise of magic, and the possibilities to bring it back and use it to their advantage. This is a smart book filled with a lot of science and tech stuff, but it was also very funny as the author's took a lot of shots at bureaucracy within how a shadowy government agency might attempt this kind of thing.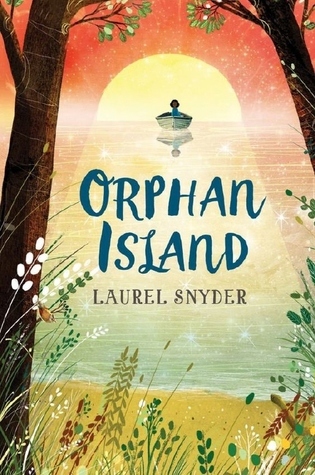 I am really still processing this book. There are a lot of unanswered questions at the end. You must be okay with ambiguity to read this one successfully but it will give you much to consider. I know that teachers and other kidlit people will really enjoy this book, but I wonder if it will have similar appeal with kids. My hunch is not really, and I can't exactly explain why. I related to it very well as a parent and I am not sure how students see it yet. A really thoughtful, thought provoking book though.
Currently Reading:
Well, I just finished Orphan Island so I really need more think time before I move on. I think I will read Swarm, the second in the Zeroes series, or The Gauntlet, which I have had for a while and inexplicably not read yet. My family is reading Worlds Collide, the sixth installment (and final one) in Chris Colfer's Land of Stories. This is probably the longest series that we have all read together and that makes it very special for us. I think it will be a little sad to finish in some ways. We are really just getting into it. Last week, I wrote about Olga and the Smelly Thing from Nowhere, and this week my seven year old is reading it to me. Its great to see the humour through her eyes.
I want to share good wishes to all the people impacted by the forest fires in British Columbia, it has been a rough few weeks for many in my area. Although my town has been extremely fortunate so far, we are hoping for some dull, rainy weather soon. This would be, of course, excellent reading weather so it would be win-win. Happy Reading to everyone, have a great week!