I am happy to be able to link up this post with others at teachmentotexts.com and unleashingreaders.com in order to see what many kidlit bloggers have been up to.
The first week back should be a week in which maybe not quite so much reading is done. However, I did acquire two books this week that needed to read quickly so that I could get them out to students who were forming quite the mob at my desk. I also managed to finish the latest in a classic graphic novel series with my youngest.
Books I finished this week:
About two years ago, I tried a new series called The Blackthorn Key and it has become one of my favourite MG series. I shared it with students and they also loved it, it was voted the Intermediate Book of the Year as part of my district's Battle of the Books. The second book, Mark of the Plague, was also excellent and the third does not disappoint.
The Assassin's Curse has all of the elements that have made this series successful. Great characters, mysteries and codes that have you thinking along with Christopher, an apprentice apothecary, and his faithful friend Tom, the son of a baker in 17th century England, and there are also terrific action scenes. The mix of history, science and math is rare and engaging for this age level. I think what I enjoy most is the relationship between Tom and Christopher. The loyalty and trust between them makes them admirable characters and the wit in their exchanges adds levity to some serious situations that they face.
This particular tale in the Blackthorn Adventures features the characters travelling more than in the past and I think they might face their toughest, most dangerous adversary yet. Fans of this series will love this book and I don't really want to spoil anything but this might be my favourite ending of this series.
This book came out on Tuesday, September 5. There is a great giveaway of five signed copies on Goodreads right now. Kevin Sands is also touring to support the book, my school is hosting him on September 25 after his stop in Vancouver.
This is the seventh book of the classic graphic novel series, Amulet. My children were so excited to get me to the latest book in this series so I could share their angst over the (to them) seemingly never-ending wait for the eighth book that is promised for 2018. Kazu Kibuishi, in addition to being a very talented artist and storyteller has infinite patience for the people asking him when the book will be ready on Twitter. I know I am not the only one with many readers waiting.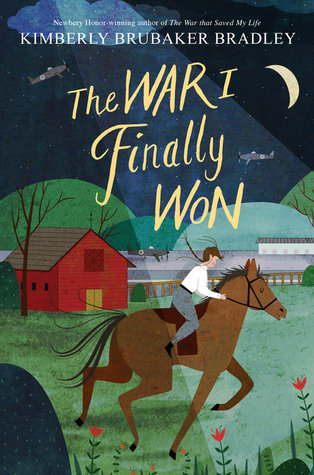 I was fortunate to win an ARC of this book on Goodreads. This is another very sought after book at my school. I held a random draw to determine the reading order of the holds placed on The Assassin's Curse library copy and there will be another one for the second copy that I will be keeping in my classroom. The draw for The War I Finally Won, also tomorrow, will have even more people in it. Almost all the girls that I taught last year are in. They are so invested in Ada, and with good reason. This book picks up shortly after The War that Saved My Life as World War II continues and the lives of Ada, Susan, and Jamie continue to evolve. It's a roller coaster of belief, tragedy, hope and belonging that is every bit as wise as the first one. I remember thinking that the first one was so great that I really did not want a sequel but I was very wrong.
Currently Reading:
I am reading Wonder with my grade 5/6 class and it is great in the early stages. I can see so much thought from many of the students. Harry Potter and the Order of the Phoenix is our family book, we love the evilness of Delores Umbridge, I can't wait to watch how that character is played on the screen (we never watch the movies until we have read the book). Zita and the Spacegirl is a recommendation from my daughter. After reading the second Mighty Jack graphic novel by Ben Hatke, I am compelled to read this whole series. Ghosts of Greenglass House is a book I have on NetGalley and I really enjoyed Greenglass House, so I can't wait to start that in the next few days.