The fact that it is already October is frightening to this teacher, but I have still been able to get in some great reading by myself and with my family. I am pleased to link up to the kidlit It's Monday hostess': Jen at teachmentortexts.com and Kellee and Ricki at unleashingreaders.com. Both are terrific websites all week, but even better on Mondays.
Books I finished this week: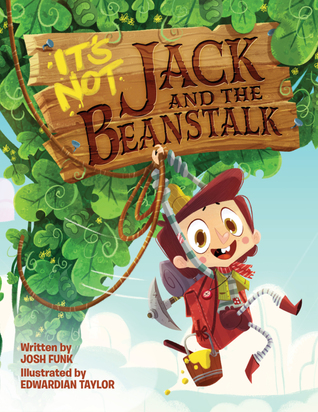 Josh Funk can really do no wrong in my library, and usually my grade 5/6 classes look forward to seeing his books before I get them into the library. This one will work well with those older students, and some young ones too. Jack wants to modify parts of his story in this tale, and he finds other characters that are willing to work with him (much to the dismay of his narrator). A funny story that would work well at the end of a fairy tale unit.
Just a cute little story about a kid who really wants to stay up and watch hockey but has to go to bed. It has a traditional feel to it when the child ends up listening to the game on the radio. There is also a dream like feel when the child falls asleep thinking about hockey. The illustrations add to the dream like quality. I think adults who had similar experiences will love this book the way I did. Others might have trouble relating to the experience, but will hopefully be drawn in by how much joy the boy gets out of hockey. I think this one comes out on Tuesday. I got an E-ARC on NetGalley.
There is a very minor spoiler near the end here (although another readers says it's not) A slice of life story of a young girl and her family living in North Carolina in 1932. Stella's family lives through some of the racial turmoil of that time as well as the Depression. This book is full of thrilling events that test her family's mettle. Readers will be excited with the action and also distressed at the racism the family is forced to endure. The ending of the novel was not the tidy conclusion that you would expect from a story, because Stella's family had to continue to persevere after the story ends. That racism did not end, and life went on. This, it seems, is one of the points of the book. Indeed, there is a moment in which Stella has to decide whether to let the people in the town know about a particularly egregious event that takes place late in the book. She decides that everyone in town already knows that the perpetrator is a racist, and responsible for many despicable acts. She doesn't really announce it to townsfolk. I struggled with this one part of the ending for a while. We teach kids to speak up, and I'm not saying the characters don't fight racism in this book, they certainly do, but at one of many pivotal moments the response is a little muted. I have been thinking that this is likely realistic for people in that situation, and perhaps they had to fight battles that they had a chance to win, instead of all of the ones that worth fighting. Certainly, this is a novel full of points worth discussing and this is one of them for me. This is a really well written, thought provoking read.
I continue to love reading this with my seven year old (and my ten year old lurking nearby to witness the hilarity). Dory enters grade two and struggles with her reading, which I think was a brilliant addition to this character for readers who may be doing the same. The machinations of her wild imagination kind of interfere with her ability to buckle down and learn to read. Usually, this poses no problems but now she is separated from her best friend during reading time. This motivates her to "get into" her book, a story that takes place on a farm. Once old favourites like Mr. Nuggy and Mrs. Gobble Gracker enter the story along with the existing characters, chaos ensues. This is my current favourite among early chapter books. I am consistently impressed with how well Abby Hanlon writes small children as characters. Maybe that says more about my kids. My family could read these all day.
I think this was one of my favourites of the series. It seemed like the ante was upped in this one and Harry and his friends had more to overcome and had to amp up their game. There were a lot of shades of gray in which characters did not behave the way Harry wanted them to, or in a way that made things simple for him. There were a few small surprises along the way as well, in which J.K. Rowling could have made life simpler, and better for Harry, but instead the plot went a different way. Which is not say that it was all gloomy, as the very end was not. There is an interesting point to be made about a person's support network, or the community that they build around them.
Currently Reading:
Wonder is my first class read aloud of the school year and I think we will finish tomorrow. It has been great! Where are you Going Baby Lincoln? has been a "necessary journey" with my seven year old as we have read all of the Mercy Watson and Deckawoo Drive (this is the third) books together. We waited for paperback on this one, but its good. I am reading two books by myself at the moment, an E-ARC through Net Galley of Greetings from Witness Protection. It is funny so far, and I think Jake Burt has an authentic voice that knows his characters (from teaching, I think). When my IPAD is not practical, I am reading the second in Rick Riordan's Norse mythology series. I am only on chapter two, but The Hammer of Thor is vintage Riordan from the get go.
On deck:
Tomorrow is the kickoff for the Global Read Aloud, a reading event started by Wisconsin educator Pernille Ripp in which classes all over the world connect and share through reading a book in common. My class will read Linda Sue Park's A Long Walk to Water and we are connecting with at least three classes in three different countries so far. There are five reading options for GRA, and over 2 million students in over 80 countries are planning to take part. This will be my third year in GRA, it is a lot of fun. Also, I have read the book and it is phenomenal. Inkspell is our new family read aloud starting tomorrow. We rotate choices, Harry Potter was my seven year old's choice, and this one is my wife's. Happy Reading Everyone!