This Monday is the first day back at school in my neck of the woods. It will be interesting to return and see what some of my students have been reading. Once again this week, thanks to Kellee and Ricki and unleashingreaders.com and Jen at teachmentortexts for allowing us all to link up to their sites with our weekly reading updates.
Books I Finished This Week: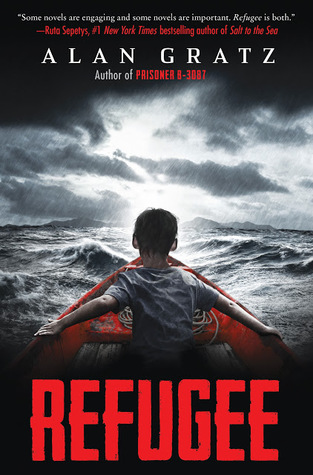 Very important read for a window into just a few of the far too many harrowing experiences of refugees. A roller coaster of emotions for readers as the characters in each of these three stories that take place in different countries and different time find hope, go through hardships, persevere, and experience even greater challenges. Great author notes at the end to explain some of the history behind these stories. I know this was one of the most read titles by teachers over the last half of 2017. I held on to this for a couple of months before reading it, and it was worth the wait.
This was a book I saw on NetGalley and decided to try. It was released last week as a MG fantasy. Emmeline is a young girl with the power to control shadows. Sadly for her, her magical gift is not seen as a good thing by her family and constantly gets her in hot water. As she finds out more about the nature of her power, the world in which she lives and those closest to her, she is forced into adventures she would have never thought possible. This is the first in the series, and I liked it but I didn't really love it. There was one character I wanted to shake some sense into. I do think it will find readers in the library though and the slightly slow build might boil over a bit more in the second book of the series.
About a month ago, I started formulating my Must-Read-in-2018 list and I decided that Refugee and Wishtree were likely the first two I would read. They actually go together very well. This is a story that meanders like a tree's roots to a brilliant conclusion. Wonderful message about the power of community that seems more important than ever. It's written mainly from the perspective of the tree but the look at how the animals form a community around the tree will capture many readers too.
Currently Reading:
I started my NetGalley copy of Thunderhead (Arc of a Scythe #2) the other day and I am loving it. The sequel to Scythe is out on Tuesday. My family is reading Nicholas St. North and we are really enjoying the Santa Claus origin story. I just started How I Became a Ghost for the moments in which I need a physical book. I will admit this one will take a back seat to Thunderhead but I am looking forward to it all the same.
Happy Back to School day for my teacher friends here, and happy reading to everyone!