I am grateful to once again make the time to post this blog of my reading week and link it up with the other great posts that are regularly found at teachmentortexts.com (Thanks to Jen V for hosting) and at unleashingreaders.com (thanks to Kellee and Ricki).
It is very hot here in the interior of British Columbia. Great weather for staying inside and reading, we really can't be outdoors for too long right now. I am fortunate to have a house that with a lot of books to read. I spent some time at my school weeding books and in my classroom library as well (both had to have the shelves emptied and cleaned up a little bit). I have found some books to read in both locations and as well as through NetGalley and the ARC group I participate in, Book Portage.
Books I was able to finish this week: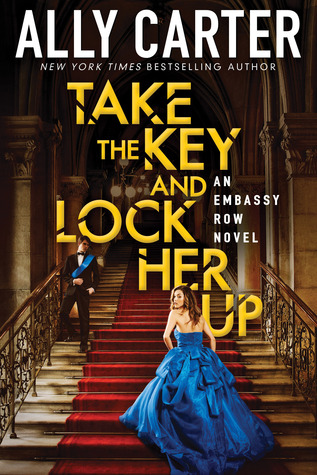 An exciting conclusion to the series. I haven't been very good at finishing series in 2018. I start a lot of them and then move on to others, but my daughter mentioned the romance in this book (at 11 she loathes such things- or so it seems) and my wife said, What are you giving her to read?, so I felt compelled to read this ahead of her, even though I knew it was no big deal. I did enjoy finishing a series and hope to do so a few more times. Embassy Row has a real international flavour and action. If I am being honest, Grace might not be my favourite character to read, but overall it is a fun series.
This book took me a while to get into. It might have been that I read the comparisons to Series of Unfortunate Events, which is one of those series I read the first book to get the feel for it for library patrons and then stopped. It just did not grab me. I like this book a little bit more, but I found it kind of slow to build. The cover makes it look like there will be madcap adventures all over the globe but the first third to half has very little of this sort of thing. I got a little impatient. I think I might enjoy the second one more, so I might have to try it as it is already out.
This was a book I started to read at my Spring book fair when the traffic slowed down a bit, but I never finished it. I finally got back to it and re-read the whole thing. It has both a journalistic kind of feel as well as a graphic novel/comic book sort of style in different parts. It is the story of immigrants who flee Aleppo, move to a camp in Lebanon and eventually immigrate to Toronto. Its told in a non-linear fashion, so you get glimpses of what will their lives will be in the future as you are seeing what pushes them from their homes. It is a little graphic in parts, so this is geared to late elementary/middle students or high school. It tells an important story and there is great facts at the end that support some of the visuals from earlier in the story.
This is another book that I had to rescue from processing purgatory in the library (plus I loaned it to a teacher before that). I was happy to sneak into my library and grab it for a quick read. It is a NF picture book that shows the importance of the sockeye as a keystone species in the Gitxsan, an Indigenous people who live in the Northern Interior of BC. The visuals are stunning and the words provide good information including some text features to aid readers. The last page describes the culture of the Gitxsan. Its a short book that provides good detail for younger readers and could be a starting point for older readers.
I managed to get an ARC through my Book Portage ARC group. It's a very interesting story that has a little of everything: humour, action, heart. I loved the characters from the title character to Ethan, to his school nemesis. Even the cat was brilliantly written.
There are so many good parts I could spoil and so many important topics such as dealing with grief, a great sibling relationship, dealing with a bully, and how to improve and get better (not best) at something. All this from what seems like a short 238 pages.
I have no clue how Kenneth Oppel can pull that off but I am grateful that I got to read this and I am eager to share this book when it comes out on September 11. I have heard that the release date in the US is later (November 6, according to Amazon.com), but it will be worth the wait. A great MG book from Kenneth Oppel, who is a favourite of mine.
Currently Reading:
I was torn between finishing Hello, Universe before writing this post, or after. I have about 70 pages left to go. I haven't yet seen how it all comes together so I won't really say but the alternating perspectives are great and the characters are so well developed. Of course, this book has been praised from all corners of the globe, and it is worth it. My family and I are reading the Beyonders series. It feels a little like Inkheart, which was hard for my youngest (now 8) to get into but it seems to be ramping up a bit.
Thanks for checking out my reading week, I look forward to seeing what everyone else is up to. I hope to read The Lighthouse Between the Worlds by Melanie Crowder, another Book Portage title this week or next. I also have some library books that I missed out on during the school year such as All Summer Long, and Shark Lady (I know, I should have read it this week for Shark Week) and I am going to make an effort to read a sequel of a series (who knows which one). Enjoy your reading week!