Summer reading has come to an end. Well, pretty much. I am back to work Monday morning at my district's Summer Institute. Three days of professional development for most schools (we do four) means a lot less time for reading and we are really getting geared up for students to return after Labour Day. Today, I am happy to write a post about my reading week that was and link up with great book bloggers at teachmentortexts.com (thanks to Jen for hosting) and unleashingreaders.com (thanks to Ricki and Kellee for hosting), but next week I might be sweating the start of my twentieth year of teaching.
Books I finished this week:
I really enjoyed the author's picture book Leave Me Alone, so I am surprised I waited so long to read this one. It's a funny graphic novel based on some events in the author's life, but with some artistic licence. Vera has a really hard time fitting in with kids in part due to her family being different from her other middle school friends. She struggles to try to deal with this. Eventually, she gets the idea that attending a camp for kids with Russian heritage is the way to go. She has an even rougher time fitting in her. There are some moments where Vera is trying to befriend older girls at the camp and ends up seeing them deal with problems she is kind of too young to deal with. This could be awkward for some readers, as graphic novels tend to attract younger readers. This is probably better suited for upper intermediate because of that but there some funny moments and a few heartwarming ones too.
I got this book from my ARC group Book Portage. This is an intriguing fantasy novel with portals that link a lighthouse to fantastical, unique worlds. It was just over 200 pages, but really it could have been hundreds more. What that means to me is that the author should be able to turn this into a longer series and that it won't be intimidating to some middle grade readers who may be drawn to science fiction if it accessible. With the world's Melanie Crowder has built here, this could end up being a five or more book series full of twists, mystery and adventure. This first book does not come out until October 23rd and I think would be perfect at my school for fans of Kevin Emerson's Last Day on Mars. Having been to Oregon this spring, the setting was kind of perfect for me too.
I was lukewarm about this book in which a girl is mistreated and becomes fierce, lashing out at others in order to get attention. There is some neat art and I liked the opening, but did not like how the situation around Millie acting fierce is treated at the end.
The fourth in the Dory Fantasmagory series was an overdue read in my house. I alternated chapters with my eight year old. My eleven year old, as promised, lurked around and made sure she did not miss any of the fun. We love all of the characters that Abby Hanlon created, in particular, the villainous Mrs. Gobble Gracker, who in this story decides she wants the tooth fairy's job. We find these books absolutely hilarious, and seems clear to us that Abby Hanlon knows kids so well. I am not sure anyone writes mischevious young kids better. I would read 100 of these.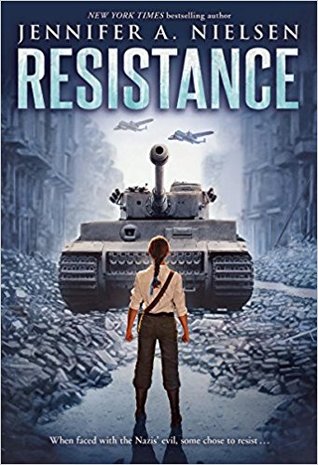 Speaking of writers I would read at any time, here is another. I fell hard for Jennifer Nielsen's writing when reading The False Prince and have pretty much grabbed everything else as quickly as I could. She was also the first author I had visit my library. Look for this in stores tomorrow, I was lucky that Scholastic sent my book order of it early! There is a bit of an obvious comparison to A Night Divided by Jennifer Nielsen. I make this comparison because they are both historical fiction and have a particularly strong and courageous girl, but both stand on their own as outstanding MG fiction. This is the story of some of the many whose resistance in the face of deplorable circumstances during WW2 in Poland gave life and hope where none seemed to exist. It is a tough but rewarding read.
Every week in August I have been reading at least one sequel because I find that I haven't been doing that as much as I would like to over the last year and a half. This time, I read what is a sequel, of sorts, to Sunny Side Up. In this one, Sunny is trying her best to deal with the confusion of middle school not going quite right and the confusion around issues that her older brother is going through. The '70s references are quickly explained so young readers will sort of get it, but I wondered if the setting was a little tricky for my readers of the first book. There are lots of clever moments, I think the scene where Sunny and a friend dress up as Swamp Nurses for Halloween was the best part. This is another graphic novel that might attract young students because of the cover, but the issues are more geared towards grade five and up.
Currently Reading:
I wasn't sure I wanted to read After Zero, as I had some other books that really had my attention more than this one, but I am kind of hooked and will probably finish it shortly after posting this. The main character is a selective mute, and she has a lot of things going on in her life. There are major events in her life that she has never really understood properly and she is just digging away at some mysteries that may help her. I got this book from NetGalley and it comes out on the first Tuesday in September, my first day with students. I am hoping to finish my math PD book this week too, but fiction always distracts me from non-fiction. My family continues to enjoy the opening book of The Beyonders series, which I hope we finish before school starts as I let my oldest swipe the book from my classroom library and I should put it back as I have a reader in mind for it.
On deck reading
Some of the books that had my attention and tried to keep me from reading NetGalley books (which if you have NetGalley you know that if you are granted the books, it is in your best interests to finish them and record your thoughts) include the new Scott Westerfeld novel that promises to take us back to the world he created in his Uglies series, which I really loved. I picked it up in the same Scholastic order as Resistance. That was a great flyer that also included Alan Gratz's Grenade, and the long awaited Amulet 8: Supernova by Kazu Kibuishi as well as pre-orders for the next Dogman and Diary of a Wimpy Kid books. I also had a lot of books I brought home for the summer that haven't been read. Life is too short, time moves too fast. Hope you get to more of the books on your list this week, happy reading!
Which of these will I get to next week? It's a work week so not enough of them.