Despite me calling my update in September a Final Update, this is the real final update on this year's Must Read list. In September, I had read 36 of my 65 books, and today, I have read 50. I will briefly go through the 14 I have managed to add since the last update provide a visual summary of my whole list. Originally, I had thought that I would read at least two thirds of my list, with 50 being something I considered as a bonus if I made it that far, and this afternoon, the 27th I managed to finish the longest book on my list for number 50. I think I will likely finish two more before the end of the year.
The final 14 (from most recently finished)
This is the second in the Monster Blood Tattoo series and the longest book on my list. It is over 600 pages with over 150 pages of Glossary and Appendixes. This last fact lets you know just how much how detailed the world building is in this MG fantasy series. I actually was pushed to read this by my wife (I have everyone in my family pick one book for my list). I might not have otherwise due to its length and my tepid response to the first book (massive amounts of world building can sometimes put me off, I get impatient). However, I enjoyed this more than the first. There was more action (typically battles between monsters and humans in this steampunk world) and the development of a mystery that I surely cannot tell you about without spoiling the entire series.
This is the fourth story set in Liesl Shurtliff's own fairy-talesque world. Often providing a different and unique perspective of a familiar story, these tales are full of humour and heart. In this case, the tale of Snow White is told from the perspective of one of the dwarves, who does not really fit into the dwarf world. These stories are set in the same world, but could be read in any order and have my recommendation. They have been consistently enjoyable for our family to read aloud.
Two interesting trickster tales in this short (56 page) volume. The first is focused on Coyote and the moon. It sort of explains why he howls at the moon. The second really stars, Raven, who fools Coyote and other characters. Thomas King's writing is something I have always enjoyed, and he writes longer novels geared more to adults but these tales (and others involving Coyote) have a different style that are great to share with younger readers.
A darkly comedic YA novel about a group of teens that spontaneously combusts. Just like the cover suggests. Very bizzare.
The Hollow Boy is the third book in the Lockwood and Co. series, and I think it was my favourite of the three. The characters are developed enough that they have a banter that adds lighter moments to the scary (by MG standards) scenes. In addition to the humour, this book clarifies more of the back story of one of the three main characters, and adds an important fourth member of the team. In this series, children are used as agents against ghosts who have become much more prevalent due to "The Problem," and in this installment there are a few significant cases for the ghost hunters.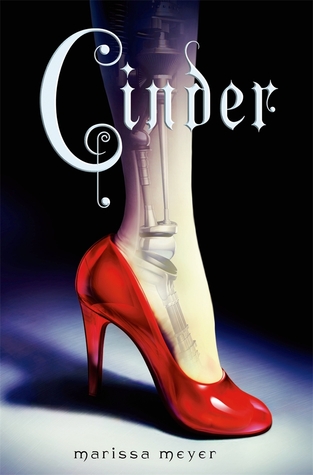 This is a series I missed out on when it was first released and I have had a student hounding me to read it for several months. It is a very entertaining story, kind of what I imagine would happen if William Gibson decided to write fractured fairy tales. If you are unfamiliar with this one, it is an imagined near future, after a World War, after which Earthen governments have come together into larger units about six of which form a council of sorts that governs the World. One of those larger units is the Eastern Commonwealth, made up of many Asian nations. One of those nations has a Prince that is one of the main characters, and also a mechanic, Cinder, and I think you know who that young lady is. There are also stepsisters, an evil stepmother (or warden), a rival civilization called the Lunars, a plague and a whole lot more fun.
This was a really neat fantasy for younger readers. A story of friendship that builds towards an ending that might surprise and is sure to delight.
I would say this is for a younger audience than the other Adam Gidwitz books I have read (Two in the A Tale, Dark and Grimm series and The Inquisitor's Tale) although it is a little bit more complex and longer than an early chapter book. I feel like it might fit a gap I have in finding books for certain grades 3-5 readers. The Creature of the Pines is the story of two students on a field trip who stumble upon a mythical creature from the forests of New Jersey. This is a series I hope to read more of in 2019.
I don't read lots of YA, as I teach and work in the library with students that are really too young for the YA books that I appreciate, but I try to read at least one by A.S. King each year. The main character, Astrid Jones, is a teen learning how to love in a world that is has more than its share of hate, and discrimination. Astrid's navigation of this, in a sexual sense (yes, it is YA) and in her relationships with family and friends is told in this author's unique style. It is seldom an easy read, but always an enlightening one.
This was another YA title that I read, set in a near future, post-global warming ravaged world. In this story, most people become dreamless, and this leads them to a state of poor mental health. A solution presents itself but it means death to the Indigenous peoples of North America. This is the powerfully told story of their fight for survival.
Those last two were pretty heavy and if that is not your thing, this hilarious picture book is probably more in your wheelhouse. This is the third installment of the Lady Pancake and Sir French Toast books and it features a battle for control of the fridge that is filled with puns, and more rhyming fun. These are among the most read picture books in my school each year.
This is the fourth in The Blackthorn Key Adventures, which has become a series that always leaves me happy as a reader, but still wanting the next one to arrive soon. I recently found out that Kevin Sands is working on something else, which is exciting but means that I will not start the school year off with a new Blackthorn book, as has been my ritual the last few years.
Penelope Rex really wants to make friends but its hard when her instincts tell her that her classmates are just really yummy. This was super funny and great to read with kids. It was a great fall for the Ryan Higgins fans in our library (and there are many) as we got to read this one, and another Bruce book (Santa Bruce).
This was my eight year old's choice for my list (my 11 year old choice The Hollow Boy) and it was funny in spots, but also cringe worthy in its humour. I could see some not finding the bodily fluids jokes too funny. A raunchier version of Roald Dahl, one could say, but its a little longer than I would expect given the content.
My whole list is included here. I think I will read at least one more of these books, I am pretty sure I will get through The Gauntlet, and maybe A Single Shard. If you think there is something that I really badly missed out on from this list, let me know and I will likely add a few to my 2019 list. Thanks for checking out my list for 2018, and I hope you also had a great reading year! Update: I did enjoy both The Gauntlet and A Single Shard, so I really made it through 52 of my 65 books. That is one per week.
I also had Mighty Jack 3 on my list, but it is not published yet. I thought it was coming out in June, but I did manage to find a post recently that states it will be out in September of 2019. I loved the first two in this graphic novel series by Ben Hatke, and it ended in a cliffhanger. Here is a link to Mighty Jack and Zita the Spacegirl. https://www.avclub.com/young-heroes-unite-in-this-mighty-jack-and-zita-the-spa-1831230038