We did not get that polar vortex thing that gripped much of North America last week but over the last two days we seem to finally be getting cold weather. Not cold enough to cancel school, but cold enough that kids are not outside at recess or lunch. The cold weather does seem to facilitate more reading though, so I am happy to have several titles to share with other book bloggers at unleashingreaders.com and teachmentortexts.com. Thanks to our hosts for allowing us to link up our posts.
Books I enjoyed this week:
This book is filled with interesting, and little known history between Indigenous peoples in Manitoba and settlers from Iceland. Its a graphic novel that describes the land claims in the area, the arrival of small pox, the role Indigenous peoples played in the survival of the settlers and how these issues were settled in relative peace. The art is really good, but I find the print to be a little small. This one might be tough for some to read, although I was able to. This is part of the Tales from Big Spirit graphic novel series by David Alexander Robertson and as a Manitoba resident and Norway House Cree member, he writes about several areas of Canadian history in a way not published or taught when I was in school.
I am spending even more time in school libraries since my wife started working in one at Christmas. She had the opportunity to do two wonderful Skype sessions with Elena K. Arnold and Dusti Bowling for World Read Aloud Day. My school had pre-booked a ski trip which is fun and all but meant I missed World Read Aloud Day. I did help my wife set-up her library for Skyping, and that is when I noticed this Amy Krause Rosenthal book that I did not have in my library. It's a beautiful book full of wishes that we should want for everyone. You could slowly read this and discuss many of the wishes.
This is the second in the Girl Called Echo graphic novel series. Echo is a high school girl who slips back in time and sees some interesting moments in Canadian history from the perspective of Indigenous peoples, in this case the Metis of the Red River Resistance during the time of Louis Riel.
In the modern arc of this novel, Echo still misses her Mom (I wanted more of that plotline here than I got), but is fitting in better at school. This part of the story could be its own graphic novel, but I wonder if the writers are showing us the history at the same time to show how Indigenous peoples are living in two worlds, and how things that happened in the past are still impacting people generations later.
The history is handled well, but I wonder if readers with little to no background on the conflict will understand what is happening. There is some information in the backmatter that helps, but readers might not be aware of that while reading.
If readers have done some learning already on this conflict, I think this book will be a great addition with the perspective of the Indigenous people to the Red River area well represented in this ownvoices book. If a social studies teacher introduced students to this history and then offered this text, I think students would be well served. The art worked really well for me too.
This is book five in the HiLo series so telling you about the plot is not likely a good idea. This is a very popular series at my school. The combination of action and humor makes it one that kids scramble to get before their friends. I had to do a draw this morning to see who which student would get it first. In a grade 5/6 class with fewer than 20 students in it, six said they needed it right away. Our 4/5 class will have even more.
This was a re-read for me, but several months ago I was trying to get my 8 year old daughter to read some early chapter books on her own. I really like this series, but it just did not take for her. She wants to read books that are more like Harry Potter, with adventure, magic, humor and action (fight scenes). However, just the other day she did ask if we could read something together, I told her to bring some books from her room and we would pick. She wanted something shorter than what she normally reads so we would finish together, this is what she picked. I was happy to read it with her and she liked it much more than she thought she would. Sure, no mythological creatures, but the imaginations of the characters are huge and the mischief is hilarious.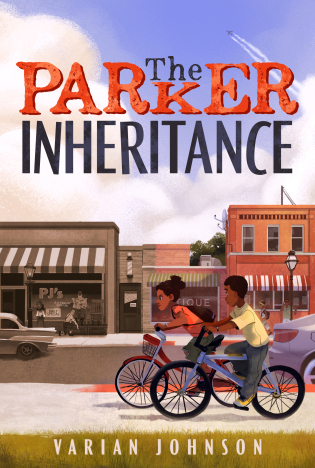 This book started a little slowly for me, but I really enjoyed it in the end. This book has earned a lot of praise so the bar was high for me. There is a great mystery at the core of it, but the style of how the story is told and all of the growth and challenges of the characters are what makes it a really great book in my opinion. The story is told in flashbacks to the past as well as following the two main characters during their present day pursuit of the solution to a mystery that was first investigated by one of their grandparents many years earlier. This explains the colouring on the cover. This is a book that would lead to many discussions about race, bullying, justice, identity and so much more. At times, as the book covers so much, I thought the kids had to as well, and I wondered if kids that young would really be up for so much. Overall, though, it made the book a great read.
This was another book that I re-read. My class will be using it for Lit Circles after Spring Break, and my district is using it for our Battle of the Books. This time I read it to write questions for the quiz show style competition we have at the end of Battle of the Books. This is the story of Aven, born without arms, and her struggle to find her way dealing with being different. She moves to a new school in Arizona after living most of her life in Kansas where everyone knew her and she was comfortable. Her story is told with such humour that most kids have really fallen for her character and love her perseverance and attitude. There is a bit of a mystery and great friendships that develop too. In re-reading this, I was also struck by how great her parents were (especially compared to YA parents). I really enjoy this book and look forward to the forthcoming sequel Momentous Events in the Life of a Cactus.
Currently Reading
I just started A Swirl of Ocean, an ARC from my book sharing group Book Portage. The first few pages reminded me of Beyond the Bright Sea but I think the plot will head in other directions. The cover really drew me in. My family is still reading The Lost Hero by Rick Riordan and really enjoying it. We might finish this week.
On deck books
These are two novels that I hope to read this week. The first is the sequel to Rule of Three, which I nearly read a few times after my first reading of Rule of Three but once I had been distracted for a while, I decided not to. However, I recently re-read it for Battle of the Books and now I think I should use that opportunity to go back to the series. Inkling is another book we are using for Battle of the Books, and I want to re-read it. I really enjoyed it the first time I read it in the summer. I also have more of the Big Spirit series of graphic novels to read.
That sums up my reading week, I hope I get a chance to find out more about your week. Thanks for stopping here and have a great reading week.