This weekly meme was given a kidlit focus by the ladies at http://www.unleashingreaders.com and http://www.teachmentortexts.com. It's a great place to share reading recommendations.
It felt like a busy week at work but I managed to have a few books to write about.
These two books arrived days apart from one other in separate orders that I had made. I had read Rosie Revere over the summer and was similarly late to the party on Iggy Peck, but Ada Twist is brand new. All of the books in this set share the focus on science, neat illustrations, and catchy rhyming text. The three protagonists are in the same class, and my six year old loves to spot Iggy in the  books that do not bear his name, and likewise Rosie in the Ada book. These are fun books to see the joy and utility that can come from creative thinking.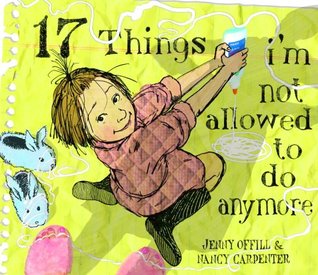 I am a huge fan of 11 Experiments That Failed by the same author/illustrator team. A teacher in my school started using that title with all her science classes. So, I decided to check out this earlier title, and it is just as funny with the same detailed illustrations. But, whereas 11 Experiments is funny and delivers some very useful information. This books does not. The main character does horrible things and is not repentant. She fakes an apology in order to get her Mom off her back. If you want to discuss ways to be horrible as a child, this is the book for you. I am not sure how kids will take this one when they read it on their own as it just felt unfinished. Maybe I am too used to books in which a lesson is learned.
My most satisfying read of the week is the hotly anticipated (in my school and home) sequel to The Blackthorn Key, which was the reader's choice in my districts Battle of the Books last school year. I loved everything about that book. The setting, 17th century London, the action, mystery, humor and main characters Tom and Christopher. This book is set months after the events of The Blackthorn Key during a wave of the plague. Kevin Sands mixes up some new characters with some old ones, and not always the old characters we would expect to see. It is quite a bit longer than the first book at about 530 pages, but I found myself racing through the last half. This was a great mix of action, history and humour.
I am currently reading the fifth Land of Stories book each night with my family. Fans of this series will not be disappointed at all with An Author's Odyssey. I have started (just) to read Ghosts by Raina Telgemeier. I have many fans in the library that will be clamouring over this one when I catalog it tomorrow. That is certainly one reason to read it, but when I saw Debbie Reese post a Not recommended tag on this book on Twitter (her opinion on the book can be found on her American Indians in Children's Literature blog), I became more curious about this book. I have many other books I have been meaning to read for some time and I hope this is the week for Home of the Brave by Katherine Applegate. Happy reading to everyone!