I was lucky enough to read The Peculiar Incident on Shady Street by Lindsay Currie through an ARC on Net Galley. It was released on Tuesday, October 10.
This book presents like a creepy MG thriller and it delivers on this promise with a moderately scary plot that will be suitable for almost all middle grade readers. It's certainly creepy but young children are not likely to be too scared. In addition, like other creepy books that my grade 5-7 students have enjoyed such as The Nest by Kenneth Oppel or The Night Gardener by Jonathan Auxier, the book has many other important messages and themes that are delivered in a subtle fashion through engaging characters.
Here is the book trailer, and my review continues after:
Tessa is a middle school-aged girl whose life is in a state of upheaval when her family moves from Florida to Chicago. She misses her best friend, Rachel, and is not sure how she will thrive in the Windy City without her. Matters are compounded when strange things begin to happen in the old house the family moves into, which her parents got for a "steal". With her parents busy sorting out their new job and unpacking, Tessa is not sure who to turn to. Luckily, Tessa stumbles upon Andrew and the two form a friendship that gives Tessa some of the support she needs to puzzle through what is really going on and find the courage to survive increasingly freaky events.

The possibility of a ghost being in her house provides a mystery that readers will love trying to solve with Tessa and her friends, making the story both spooky and thoughtful. Tessa benefits from the help of Nina, who loves researching the paranormal and knows that Tessa is "having a bad time and… need(s) help right now." The kids in this book know that part of being a friend is giving someone what they really need. Friendship is key to characters in this book. When they have it, things are positive and hopeful, and the characters that are unable or unwilling to lean on friends at certain points are shown to struggle.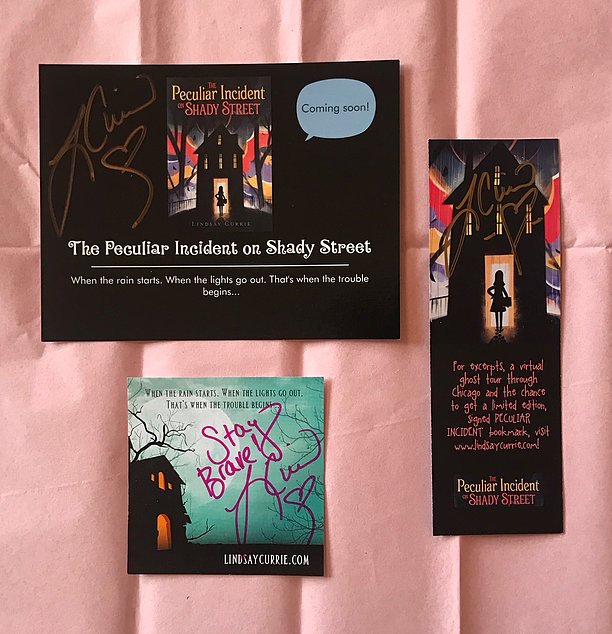 Young readers are often attracted to spooky plot lines and it's here in abundance with ghosts, creepy noises in an old house and a walk in a cemetery, but readers will also be engaged by the characters working together and overcoming fear. The message that family and friends should support each other is also perfect for MG readers. This would be a good addition to any library around Halloween, but also throughout the year.
About the author: Although Lindsay is the author of several YA books, I think it is clear that she belongs in MG due to the fact that she always wanted Anne Shirley's red hair. This book appears to be a labour of love as it combines her home city of Chicago as the setting and the spooky elements of it remind us of her favourite holiday, Halloween. Below, Lindsay Currie offers more information as part of her walking tour of the setting of the book including a graveyard in Chicago.
Thanks for stopping by, this is an excellent book and I hope that many of my students get the chance to enjoy it!