I look forward to being able to post as part of this weekly meme hosted by Jen at http://www.teachmentortexts.com and Kellee and Ricki at http://www.unleashingreaders.com. I haven't been very good about finishing a post each week but I am completing this one after school on the first Monday back after Spring Break. This is always an exciting time, and usually I am able to stock up on books during the break as well. There are no bookstores in my hometown so I am excited to be able to get to some book stores. I was able to get to Munro's in Victoria, which is an amazing building and store, and Kidsbook in North Vancouver, also great, with excellent staff to chat with about kidlit.
Here is a pic of Munro's front display, dedicated to Jon Klassen. I know someone else tweeted a similar picture (Carrie Gelson) a couple days after my visit, but it really is great so I post it here in the event you have not seen it before.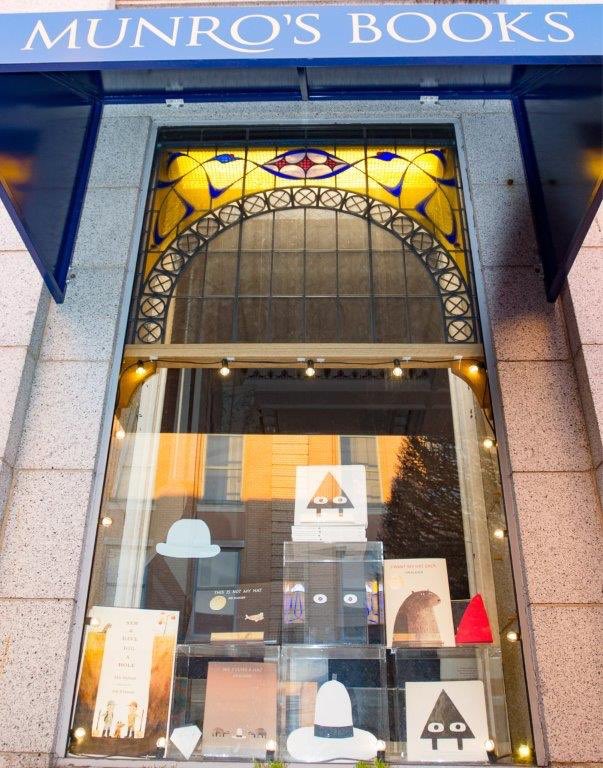 Here is what I was able to read this week: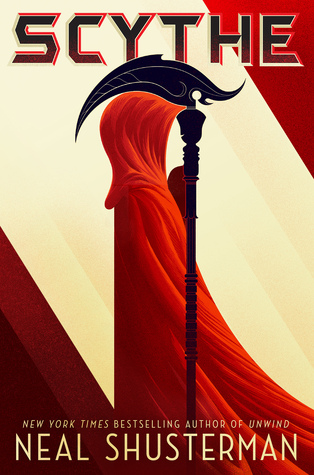 The first book I read was Scythe, which I won on Goodreads. I should have read this much sooner, as I really enjoyed it, but it being YA, I had more pressing needs in the K-7 section of my classroom library and school library. The premise here is that in a "post-mortality" society, all forms of natural death have been eliminated, Scythes are employed to control the population. These Scythes have pretty much unchecked power to complete their job in the whatever fashion they deem appropriate. These unchecked powers and the different ways that characters handle death become very interesting and important. A little grim at times, but not anymore than what you would expect from the title and cover, but an interesting read from a writer I really want to read more of. I liked the ending of this book, and I might read the sequel, but I probably won't move it to the top of my pile. I think a mature elementary student could read this one.
This was a re-read for me. I was asked to pick a chapter book with magic and action (could even be fighting) by my youngest daughter and this was my pick. She now holds this series as her #2 series (behind Harry Potter). My not quite seven year old loves the fairy tale characters that are forced to stay together and populate the fictional town on Ferryport Landing. Keeping the peace is Relda Grimm and her two granddaughters Sabrina and Daphne. This was ideal as a read aloud, as my daughter can read short chapter books on her own and wants something more complex during our reading time. If you haven't checked out this nine part series it is really great for about grades 3-5.
This is the third in the HiLO graphic novel series. It is a very funny, other wordly series. I really loved book two with the addition of the hilarious cat you see on the front (Polly) and the cliffhanger ending. The series continues to have humour, interesting worlds, and good relationships between characters. As good as it was, I enjoyed the second a little more. Probably the most interesting for me this time was that much of it takes place in a new setting. This was a good one for fans of the series, but would not likely work at all for those that have not read the first two. I have had kids from grades 2-6 read this one, but it seems that the grade fours are the most interested.
Another graphic novel, but this is one is better suited to early chapter readers. Its very cute and funny, but also has many facts about sea creatures in it. It reads more like a series of stories and it reminded me of an old comic book in that way with unrelated episodes and some facts distributed randomly. I haven't given this to students yet, but I think it will be very popular with grades one and two at my school.
Normally, I am not drawn to multi-platform series featuring different authors. There is an online game associated with this series which starts with Scott Westerfeld at the helm and Jennifer Nielsen on deck. However, I really like both of those writers so I had fairly high expectations for this one. The survival theme has worked for many other books too. I liked this, but it was not as good as I was hoping for either. I think the plot is going to confuse some and have readers looking for more of an explanation as to why some of these things happen. I did feel that way while reading The Maze Runner though, and of course the suspension of disbelief was no problem for kids who needed to read the rest of that series. Very likely to be the case here too, but it will be tough for readers to wait a year between books so I am hoping they come out on a speedy schedule. What I did like was the diverse cast of characters and the creepy creatures that inhabit the world in which in takes place (reminded me of Westerfeld's Midnighters series, which I think was stronger than this book- but full disclosure, I really loved that one).
This was our family read aloud that we read over the break. We are trying these in a suggested reading order. We read The Magician's Nephew and The Lion, The Witch and The Wardrobe and really enjoyed both. I am sure that I read this whole series as a child, but not since. I had strong memories of the first two we read, but not really any of this book. I did not get too invested in the new characters and I just wanted them to hurry up and get back to Narnia. There were some good moments near the end of the book, but it just did not grab any of us the way the first two did.
Currently Reading:
I just started Brooks Benjamin's My Seventh Grade Life in Tights, and I hope to finish it this week. Also, I am re-reading The War That Saved My Life (one of my favourites from last year) as I start using it with my literature circle group. I am also reading The Bad Guys with my youngest and Harry Potter and the Goblet of Fire with my family. I am hoping to squeeze in one more MG novel with a student clamouring for me to read The Whispering Skull (#2 of Lockwood and Company by Jonathan Stroud) and me wanting to add more early chapter books to my list (Inspector Flytrap has been popular in one class and I have yet to read it).
Happy Reading to everyone!