I am squeezing in a late afternoon Monday reading post. The group of bloggers that post weekly on kidlit at unleashingreaders.com and teachmentortext.com provide a great selection of books to add to your To-read piles.
Here is the reading I was able to complete this week:
This early chapter/graphic novel has been really popular with late primary and early intermediate students. Pictures and words both contribute to the humour. Its a Scholastic publication so it is easy to acquire in their book clubs and book fairs. Its also the beginning of a series that seems to have my students looking for the next book.
I have had so many students, and my oldest daughter recommend this series that I decided to read it before the next one is published in 2018. It is a really solid graphic novel/fantasy series, neither of which is a genre I am generally drawn to, but there is lots to like here. The story is really detailed and imaginative and the art is beautiful. If you are like me and have seen this fly off the shelves for years and wondered what it is like, it is certainly worth the read.
This is another very funny picture book from the author of Mother Bruce and Hotel Bruce. I loved this funny tale of Rupert the mouse, whose one goal is to make an artistic, wordless picture book. Things do not go according to plan thanks to a few other mice that we first saw in the Bruce books. There are also cameos from a couple other characters my students loved from both Bruce books. With a very clever plot, and the "visually stimulating" pictures this one is full of checklist for everyone and lives up to the high expectations young fans of Ryan T. Higgins books.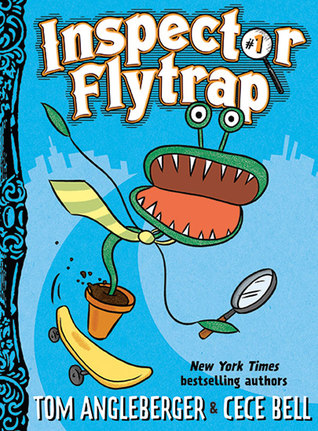 I enjoyed the humour in this early chapter book. There were a lot of zany creatures, particularly the title character, and his trusted assistant (a goat). The team attacks "big deal" mysteries. The pictures were funny and I liked how the four cases that were solved came together at the end of the book. Similar to The Bad Guys in terms of reading ability and interest level.
This is a MG novel of middle schoolers trying to "find the moves that fit". Our main character is involved in dance, but other characters go through similar issues in their own ways. There is heart and humor here, and even though you can see some of the conclusions coming, the characters are likable enough that I was happy enough to make the trip. There is a diverse cast of characters and their interests are also diverse and that will likely also appeal to some students.
Currently Reading:
Next for me is a Richard Wagamese book for teens called Him Standing. I am finishing my re-read of The War That Saved My Life this week (its kind of been on the back burner). I am reading Harry Potter and the Goblet of Fire with my family and The BFG with my six year old. I am also hoping to read House Arrest by K.A. Holt and maybe Wolf Hollow. Happy Reading everyone!