The kidlit version of this meme is hosted  by http://www.teachermentortexts.com and http://www.unleashingreaders.com. At one point last week, I saw there were 39 participants which is excellent, and although it was a challenge to make time to read them all it was well worth it and added many titles to my to-read list. I encourage all readers to check it out.
I didn't really feel like I read as much this week, and I was thinking of not posting anything, but then I remembered that I had done this for a couple of weeks and never mentioned what I read aloud to my class, or with my family. This week I will comment on my independent reading as well as the reading I have done with others (which is usually more rewarding).
Unusual Chickens for the Exceptional Poultry Farmer by Kelly Jones- This is a tricky book for me to write about. I liked it, but I did not love it. I wasn't super engaged in the characters or the plot. There was a plot twist near the end that I kind of saw coming earlier in the book. However, there was a lot to like as well. I really liked the drawings, and the cover and title pulled in a lot of students that saw me reading this book. The first person narrative told in the style of letters worked for me. Some great messages in this book that the character learned is that through hard work one can learn new skills (it would go with discussions on the Growth Mindset), and a positive attitude can make the most of a less desired situation (for the girl it is a family move at the beginning of the book). This is a cute, and quick read.
Fairies and the Quest for Never Land by Gail Carson Levine- This is a family read aloud that we finished this week. Now I know a lot more about fairies than the average male my age, but I am not exactly the target audience of this book. Gail Carson Levine is a really good writer though, and the illustrations are beautiful. My suggestion that this is kind of the third book in this series and we should maybe read one of the other two was swiftly overruled by one of my two daughters. Despite feeling a little like I had plunged into the middle of something there is a lot to like in this book. The plot has danger and action, the main character Gwendolyn (not Wendy as she is mistakenly referred to by Peter on several occasions) learns from her mistakes and I liked how her hero worship of fairies realistically got in the way of her decision making at times. As I wrote, the writing and illustrating are top notch so if you know any little ones that are into fairies this is a good read, albeit more challenging than most Disney Fairies books.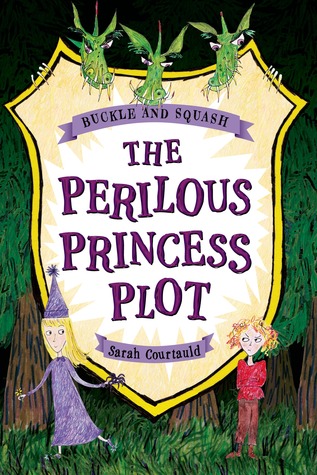 Buckle and Squash: The Perilous Princess Plot by Sarah Courtauld- This is our current family read aloud. My two daughters and I had a couple of dollars each left on bookstore gift cards at Christmas time and I suggested we pool the money together to buy this book. We have read about a quarter of it and I can describe it in one word. Hilarious! Two sisters, one determined to be a princess and find her prince, and the other a far more independent, take charge kind of gal appear to be on their way to many adventures far away from their home in The Middle of Nowhere. That's what their village is called and that is the kind of humour I am talking about. Although there are much funnier parts. The pencil and crayon style drawings are funny and the footnotes, and author asides had us disturbing neighboring tables in a restaurant with our giggly fits of laughter. This is the kind of book that makes me want to extend our family reading times before bed.
Bug in a Vacuum by Melanie Watt- This from the consistently funny Melanie Watt. She also does the illustrations for this one. My wife suggested some of her earlier work from the Chester series with our children and we really enjoyed them. A colleague at school is also a big fan, so a couple of months ago I purchased this for our school library and today I realized I had never read the whole book. Time to remedy that, although this is kind of a long picture book compared to her other work. It has all of her trademark humour and illustrations reminiscent of You're Finally Here, one of my youngest's favourite. The title character goes through the five stages of grief after being sucked up in the vacuum and there is a lot of language that was difficult for my little five year old, who listens to a lot of books. This was funny, and there were a lot of interesting details to pick out in the pictures, but I think it needs a slightly older audience than her earlier works. I really liked it.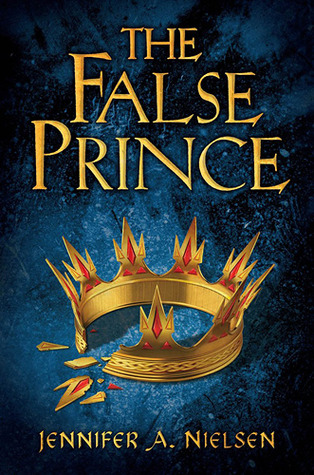 The False Prince by Jennifer Nielsen- One of my personal favourites. I am reading this with my class right now, and we are about a third of the way through. I have already read this series, and highly recommend it. This is a great middle grade fantasy series with fascinating characters and loads of action. My grade five and six students are loving it. The plot involves a detailed plan to take over the throne as you may guess from the title. The novel is very fast paced and my students have a very difficult time when I stop reading for the day.
Tonight I am reading an intermediate picture book called Animal Architects and the young adult, sci-fi thriller The Knife of Never Letting Go (which is really great, but also uncomfortable to read at times). Someone I know had an intense experience with this book and that compelled me to pick it up. I was going to read The Wednesday Wars, maybe this is the week, and I also have the graphic novel Rapunzel's Revenge by Shannon Hale and Kate DiCamillo's Leroy Ninker Saddles Up in a pile to be read this week.